Strategies for Teaching Boys and Girls -- Elementary Level: A Workbook for Educators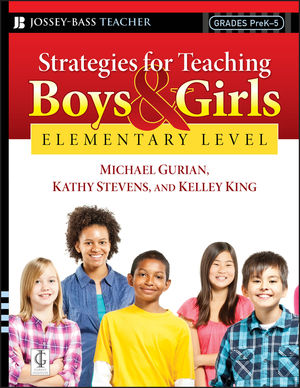 Strategies for Teaching Boys and Girls -- Elementary Level: A Workbook for Educators
ISBN: 978-1-118-04114-7
Dec 2010, Jossey-Bass
216 pages
Description
In his best-selling classic Boys and Girls Learn Differently, Michael Gurian explained the origin and nature of gender differences in the classroom. His important book explored the behavior teachers observed and the challenges they faced with both boys and girls in their classrooms. Taking the next step, Strategies for Teaching Boys?Elementary Level: A Workbook for Educators and Girls offers teachers a hands-on resource that draws on the Gurian Institute's research and training with elementary schools and school districts. The workbook presents practical strategies, lessons, and activities that have been field-tested in real classrooms and developed to harness boys' and girls' unique strengths.

The workbook is designed to help teachers build a solid foundation of learning and study habits that their students can use in the classroom and at home. It covers the key curricular areas and offers proven techniques to make learning, no matter what the subject, more engaging for all students.

The workbook is an essential resource for all teachers who want to improve their practice and get the most from all students?whatever their gender.
About This Book.
The Authors.
About the Gurian Institute.
Acknowledgments.
1 The Science of Boy-Girl Learning Differences.
2 Keep 'Em Moving: Incorporating Movement Across the Curriculum.
3 Make It Visual: Tools to Support Your Spatial Learners.
4 Empower the Learner: Giving Students Choice and Control.
5 Get Them Learning Together: Increasing Opportunities for Social Interaction.
6 Making It Matter: Finding Ways to Make Learning Real.
7 Art Smart: Blending Art and Music into the Core Curriculum.
8 Connecting with Your Students: Promoting Learning Through Teacher-Child Relationships.
9 Building Character: The Foundation for Learning and Life.
10 The Home Stretch: Getting Parents and Teachers on the Same Page.
Epilogue.
Sources.
Index.
With the school year rapidly coming to a close, here's a book you might want to give your child's teacher as a thank you gift. (Aptos Times, 05/08)
Uses the proliferation of research on the brain, learning, and gender differences to craft a practical text for strategies of curriculum and instruction.

Demonstratees the successful implementation of approaches that make use of these findings to support students in personalized learning

Includes new and essential information impacting everything from test scores and grades to behavioral issues.