Strategies for Winning Science Fair Projects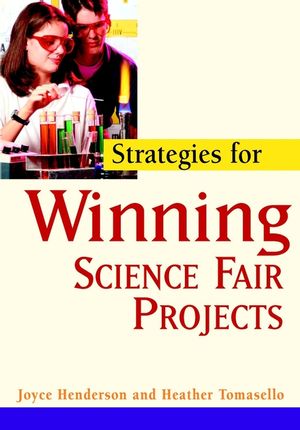 Strategies for Winning Science Fair Projects
ISBN: 978-0-471-22570-6
Mar 2002
128 pages
Description
Discover the Secrets of Science Fair Success with This Essential Guide . . .

Written by a science fair judge and an international science fair winner, this must-have resource is packed with strategies and pointers for putting together a winning science fair project. Here you'll get the nitty-gritty on a wide variety of topics, from the fundamentals of the science fair process to the last-minute details of polishing your presentation, including:
* Choosing the right project for you
* Doing research and taking notes
* Using the scientific method
* Writing up procedures, data, and conclusions
* Creating eye-catching backboards
* Handling pre-contest jitters
* Dealing with difficult judges
* and much more


With insider tips, checklists, and solid advice from people who've been there, Strategies for Winning Science Fair Projects is the one guide you'll need for science fair season and beyond.
Introduction.

1. Why Do You Want to Be in the Science Fair?

What Is Involved?

The Benefits.

Beyond the Local Competition.

The Costs.

2. Getting Started: Selecting a Research Topic.

Narrowing the Field.

Researching Possible Topics.

Keep It Simple.

Keep It Narrow.

Cause and Effect.

Pitfalls to Avoid.

3. There's a Method to the Madness: Using the Scientific Method.

Basic Elements of a Science Fair Project.

Problem and Hypothesis.

Purpose.

Background.

Materials and Procedure.

Data and Results.

Conclusion.

4. Who? What? Where? When? and How? The Science Research Paper.

Who?

What?

Where?

When?

How?

Putting It Together on One Page.

5. Murphy's Law of Science Research: If Anything Can Go Wrong, It Will.

Time Is of the Essence.

Creating a Timeline.

Time Management Tips.

Be Prepared.

6. Safety First: Safety Guidelines for Experimentation.

Chemicals 42

Labs Are Dangerous Places 42

What's Green, Glows in the Dark, and Is Growing on My Project?

Sterile Technique.

Sterilization.

Better Safe than Sorry.

7. Data, Not Just a Star Trek Character: How to Interpret and Display Data.

Making a Data Table.

Mean, Median and Mode: The ""Three Musketeers"" of Statistics.

Would You Like That in a Pie, Bar, or Line?

Measuring the Range of Your Results.

8. Misteaks, Mistaxe, Mistackes, Mistakes: Sweating the Small Stuff

Catching Spelling and Grammatical Errors.

Common Spelling and Grammatical Errors.

Where It's OK to Make Mistakes.

Preventing Plagiarism.

Giving Credit Where Credit Is Due.

Bibliography.

9. You Only Have One Chance to Make a First Impression: Your Backboard.

Assembly Required.

Mats and Lettering.

What Should Go Where?

The Finished Product.

10. 'Twas the Night Before the Fair.

11 Keeping Your Cool: The Big Day.

The ""What If "" Kit.

Dress for Success.

Meeting and Greeting.

The Main Show.

The Ugly Judge.

Relax!

12. ""Your Honor . . ."": Who Are the Judges and What Do They Want?

Who Are the Judges?

What Do Judges Want?

What Can You Learn from Your Judges?

Meeting Face-to-Face.

13. Is There Life After the Science Fair?: After the Big Day.

Defining Personal Success.

Your Science Fair Project: The Sequel.

Publishing and Patents.

After the Last Fair.

Returning as a Judge.

14. A Letter to Parents.

Get Involved Early.

Assist with Time Management.

Assist with Research and Experimentation.

Be a Proofreader and Audience.

Be Your Child's Cheerleader.

You Can't Relive Your Youth.

Appendix A: Researching Online.

Ask Jeeves.

Appendix B: References for Studying Statistics.

Glossary.

Index.