Strategy, Structure and Style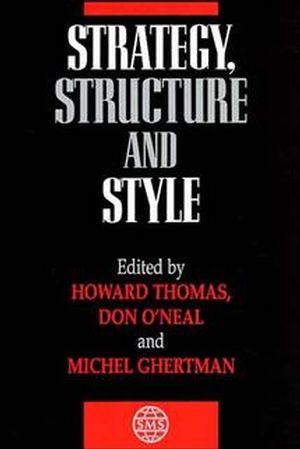 Strategy, Structure and Style
ISBN: 978-0-471-96882-5
Apr 1997
400 pages
Description
Although it is impossible to include in one volume the full breadth of ideas under discussion in the area of strategic management, the editors have selected contributions that offer interesting food for thought in three currently crucial strategic conversations: Strategy - demonstrates the diversity of research topics in strategy. Structure - addresses how organizational structure can help/hinder corporate strategy. Style - management or corporate--is not often discussed directly in strategic management literature, though its presence and effects are pervasive. Strategy, Structure and Style addresses another of the Strategic Management Society's primary concerns--how to build and maintain bridges between management theory and business practice.
Partial table of contents:

STRATEGY.

Trustworthiness as a Source of Competitive Advantage (J. Barney & M. Hansen).

Excess Capacity and Global Competition: A Resource-Based Approach (J. Canals).

Hypercompetition (R. D'Aveni).

Developing and Deploying Corporate Resources in the Technological Race to Market (L. Wright & R. Wright).

STRUCTURE.

Organizing for Competitive Advantage: The Machine Adhocracy (C. Bowman & S. Carter).

The Unit of Activity: Towards an Alternative to the Theories of the Firm (K. Haanaes & B. Lowendahl).

STYLE.

The Myth of the Global Renaissance Manager (J. Craig & P. Yetton).

A Strategy for More Effective Executive Development (X. Gilbert & P. Lorange).

The Study of National Strategic Management: A Methodological Discussion (T. Hafsi & P. Martin de Holan).

Forms of TMT Consensus and Organizational Change: An Integrative Model (B. Wooldridge & S. Floyd).

Index.