Strategy-Driven Talent Management: A Leadership Imperative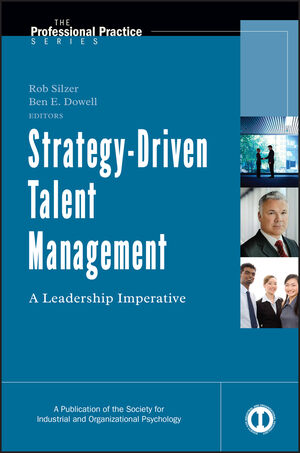 Strategy-Driven Talent Management: A Leadership Imperative
ISBN: 978-1-118-28947-1
Feb 2012, Pfeiffer
928 pages
Description
A Publication of the Society for Industrial and Organizational Psychology
Praise for Strategy-Driven Talent Management
"Silzer and Dowell's Strategy-Driven Talent Management provides a comprehensive overview of the different elements of the best talent management processes used in organizations today. This is a valuable resource for leaders and managers, HR practitioners and anyone involved in developing leadership talent."
—Ed Lawler, Professor, School of Business, University of Southern California
"Talent is the key to successful execution of a winning business strategy. Strategy-Driven Talent Management by Silzer & Dowell provides a thorough and very practical guide to building and managing talent based on the strategic needs of the organization. Business leaders will find this an excellent resource with many interesting examples and best practices from leading companies."
—Herbert L. Henkel, Chairman and Chief Executive Officer, Ingersoll Rand
"Thanks to Strategy-Driven Talent Management, we can move from an attractive idea of talent management to practices that deliver. This book brings the work of practitioners—the people who are inventing, crafting, and shaping the field of talent management—to the forefront. Their collective experiences and insights will certainly enrich your own research and practice."
—Cynthia McCauley, PhD, Senior Fellow, Center for Creative Leadership
"It is exciting to see that Rob Silzer and Ben Dowell have given us the state of the art in 2010 of integrating human resource issues into strategic management. This volume is a must read for human resource and line leaders alike. The journey is far from over, but this volume of work will chart the course for further progress."
—Noel Tichy, Professor, Management and Organizations, University of Michigan, Ross School of Business
Figures, Tables, and Exhibits xiii
Foreword xvii
Preface xxi
The Editors xxix
The Contributors xxxi
PART ONE: General Frameworks
1 Strategic Talent Management Matters 3
Rob Silzer, Ben E. Dowell
2 Building Competitive Advantage Through Integrated Talent Management 73
Marcia J. Avedon, Gillian Scholes
PART TWO: Key Practices
3 Building the Talent Pipeline: Attracting and Recruiting the Best and Brightest 123
Leslie W. Joyce
4 Ropes to Skip and the Ropes to Know: Facilitating Executive Onboarding 159
Seymour Adler, Lorraine Stomski
5 Identifying and Assessing High-Potential Talent: Current Organizational Practices 213
Rob Silzer, Allan H. Church
6 Developing Leadership Talent: Delivering on the Promise of Structured Programs 281
Jay A. Conger
7 Developing Leadership Talent Through Experiences 313
Paul R. Yost, Mary Mannion Plunkett
8 Changing Behavior One Leader at a Time 349
Sandra L. Davis, Robert C. Barnett
9 Managing Leadership Talent Pools 399
Ben E. Dowell
10 Employee Engagement: A Focus on Leaders 439
Jeff Schippmann
PART THREE: Critical Issues
11 Building Functional Expertise to Enhance Organizational Capability 463
Suzan McDaniel, Erika D'Egidio
12 Managing and Measuring the Talent Management Function 503
John C. Scott, Steven G. Rogelberg, Brent W. Mattson
13 Managing Talent in Global Organizations 549
Thomas Ruddy, Pooja Anand
14 Managing Talent in China 595
Elizabeth Weldon
PART FOUR: Different Perspectives
15 Take the Pepsi Challenge: Talent Development at PepsiCo 617
Allan H. Church. Janine Waclawski
16 Integrated Talent Management at Microsoft 641
Paul R. Yost
17 They Can Do It! You Can Help! A Look at Talent Practices at The Home Depot 655
Leslie W. Joyce
18 Allstate's "Good Hands" Approach to Talent Management: An Interview with Ed Liddy and Joan Crockett 669
John W. Boudreau
19 A View from the Top on Talent Management: An Interview with Warren Staley, Recently Retired CEO of Cargill Incorporated 699
Sandra L. Davis
20 Chief Human Resource Offi cer Perspectives on Talent Management 711
Marcia J. Avedon, Stephen Cerrone, Mirian Graddick-Weir, Rob Silzer
PART FIVE: Future Directions for Practice and Research
21 Building Sustainable Talent Through Talent Management: Benefi ts, Challenges, and Future Directions 745
Rob Silzer, Ben E. Dowell
22 Critical Research Issues in Talent Management 767
Rob Silzer
23 Talent Management: An Annotated Bibliography 781
Rob Silzer, Joshua B. Fyman
Name Index 823
Subject Index 835
Strategy-Driven Talent Management:
shows how to build competitive advantage through an integrated and strategic talent management program.

summarizes what it takes to attract, develop, deploy, and retain the best talent for the strategic needs of an organization.

reviews critical issues such as managing talent in global organizations and measuring the effectiveness of talent management programs.

Includes case examples and CEO interviews from leading-edge companies such as PepsiCo, Microsoft, Home Depot, Cargill, and Allstate, which reveal how each of these organizations drives talent management with their business strategies.