Stratification and Power: Structures of Class, Status and Command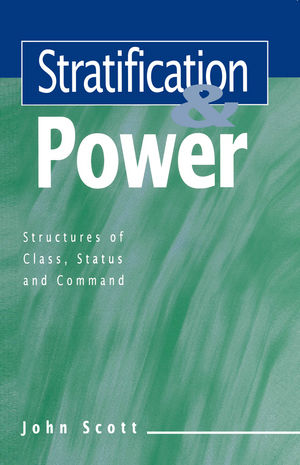 Stratification and Power: Structures of Class, Status and Command
ISBN: 978-0-745-68779-7 April 2014 Polity 296 Pages
Description
This volume presents a systematic discussion of the leading theoretical approaches to social stratification. It is both an accessible overview and a distinctive contribution to the analysis of class, status and power.
John Scott argues that Max Weber's conceptual framework - reconstructed and enlarged - provides the basis for integrating what have been considered up to now as divergent approaches to stratification studies. Marxist theories of class and economic division, normative functionalist theories of status and cultural division, and elitist theories of command and authoritarian division all find their place in the proposed framework. Each theoretical approach is illustrated through empirical investigations undertaken by writers associated with them. Recent work by Dahrendorf, Wright and Goldthorpe is also examined, and it is shown how their arguments contribute to a theoretical synthesis in the analysis of stratification.
Stratification and Power will be much appreciated by students and academics alike in the social sciences. The clarity of its style and the significance of its contribution have made it a leading text in its field.
Table of contents
List of Figures.
Preface.
1. Images of Stratification.
2. From Max Weber: a Framework.
3. Class, Property and Market.
4. Status, Community and Prestige.
5. Command, Authority and Elites.
6. Property, Authority and Class Relations.
7. Structures of Social Stratification.
8. The Question of the Working Class.
Notes.
References.
Index.
Reviews
"John Scott offers a challenging agenda for comprehensive and comparative analysis of social stratification."
John Westergaard, University of Sheffield
"A comprehensive and critical appraisal of classical and modern theories of social stratification, and an important contribution to the subject in its own right." David Lockwood, University of Essex
"John Scott ... brings impressive credentials to his aim with this book to put social stratification firmly back into the mainstream of sociological concerns ... Scott presents it with admirable lucidity and adds distinctively significant underlinings ... This book should appeal as a central teaching text, for its wide-ranging review of classical and modern literature in the field, including a finely tuned final chapter on research and debate about the 'working class'. But its strength goes well beyond this, to offer a challenging agenda for work on a subject whose continuing sociological salience Scott persuasively demonstrates." Times Higher Education Supplement
"Those who read this book will come away with the distinct impression that the question of social stratification is very much alive as we approach the new millennium." Work, Employment and Society
"I would strongly recommend this book to anybody interested in the history and conceptualization of social stratification. It is written with insight and clarity, and will be an invaluable resource for students - and their teachers - working in this field." Political Studies
Features
A comprehensive overview of leading approaches to social stratification
Will be a leading textbook in this field
Scott develops an original contribution to the debate elaborating his own synthesis and position.