Straying from the Flock: Travels in New Zealand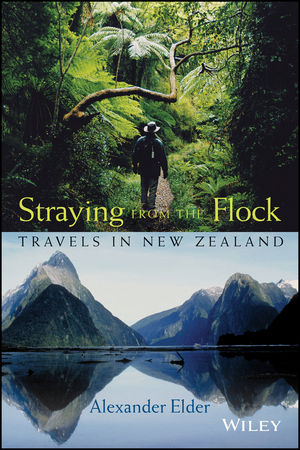 Straying from the Flock: Travels in New Zealand
ISBN: 978-0-471-71863-5
Apr 2005
288 pages
Description
An illuminating road trip through the history, life, and attractions of one of the most beautiful countries in the southern hemisphere
The beauty and grandeur of New Zealand has captured the imagination of movie-goers over the past couple of years, and the country is a dream destination for many around the world. Straying from the Flock is an intimate and personal account of one passionate traveler's visit to this incredible country, its mountains and beaches, fjords, rainforests, vineyards, and hidden eateries. Each of the fifty chapters describes one day in his travels-fishing, flying, cattle herding, befriending locals at every turn. Filled with colorful stories and memorable personalities, the book not only describes the trip of a lifetime, but captures a life-altering experience for its writer. From mountains and rainforests to cities and beaches, Straying from the Flock is both a moving memoir and personal travel guide to this amazing country.
Your Ticket to New Zealand.
SECTION 1: The Far End of the Earth.
1. Travel without Reservations.
2. Across the Ocean from the South Pole.
SECTION 2: The South Island.
3. The Wrong Side of the Road.
4. Penguins, Pints and Pioneers.
5. A Hot Tub for Sea Lions.
6. Stern Scotch Presbyterians.
7. Ski Trails above the Clouds.
8. Extreme Sports.
9. Skid and Tow.
10. Paddling under the Glaciers.
11. Crampons and Crevasses.
12. Across the Southern Alps.
13. Heli-skiing? Heli-no!
14. Mountain Rescue.
15. The Country of Second Sons.
16. A Flying Shepherd.
17. Poverty, Chastity, and Obedience.
18. Bad Girls' Guide to Wine.
19. Meeting Captain Cook.
20. Above Murderers' Bay.
21. The Emperor of New Zealand.
22. The Cat across Cook Strait.
23. Once-in-2,000-Years Earthquake.
24. Sherry with a Painter.
SECTION 3: Australia.
25. Swim in an Anti-Shark Cage.
26. Parfume Downwind.
27. An Esky Party.
28. The Stolen Generation.
29. Directions for a Hanging.
30. I'll be Buggered.
31. The Best Brains of All Fish.
SECTION 4: The North Island.
32. Prawn Sambal from KL.
33. 81 Sheep an Hour.
34. Biblical High Tech.
35. The Maori and the Mongrel Mob.
36. A Knife for a Captain Cooker.
37. The Rules for Whale Encounters.
38. Fight or Be Cooked.
39. Between the Dolphins and the Gannets.
40. Thrown Out for Misconduct.
41. A Blue Electric Charge.
42. A Farmer and a Scholar.
43. Where the Queen of England Goes to Fish.
44. The Polynesian Spa.
45. How to Catch a Barracuda.
46. Stud Lambs Get Crotchety.
47. The City of Sails.
48. A Stack of Sheepskins.
49. A Tunnel through a Fishtank.
SECTION 5: Cook Islands / Goodbye New Zealand.
50. Writing in Rarotonga.
51. Goodbye New Zealand.
SECTION 6: The Practical Traveler.
Favorite Places.
Favorite Guides.
Background Reading.
Practical Books and Web Sites.
Bring with You.
Flying in the Front of the Plane.
Overcoming Jet Lag.
Recipes.
Acknowledgments.