Street Foods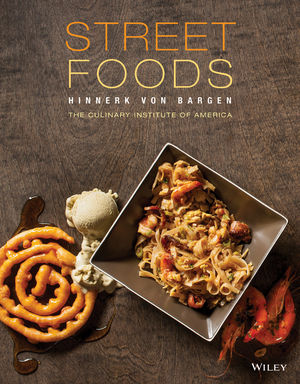 Street Foods
ISBN: 978-1-119-03499-5
Mar 2015
408 pages
Description
Street Foods is the first definitive book to explore the medley of global cuisines, cultures, and cooking techniques that are propelling the demand for "world casual" flavors from diners in every foodservice segment. This guide teaches professional chefs and culinary students how to capitalize on the ingredients, flavors, cooking techniques, and service of cherished portable foods from around the world. This is one of the only comprehensive texts available that offers a new look at food served out of trucks, booths, or mobile vending stations and aims to re-codify established classics. Street Foods explores a medley of global cuisines, cultures, and cooking techniques, combining the history of quintessential local street foods from around the world with recipes for these transportable treats. Recipes provide inspiration through the wonderful world of casual street food dining.

Features tantalizing photos by Francesco Tonelli.
Preface xii

Acknowledgments xiii

About the Author xiv

CHAPTER 1 What Is Street Food? 2

CHAPTER 2 Meat and Poultry 38

CHAPTER 3 Fish and Seafood 98

CHAPTER 4 Vegetables 126

CHAPTER 5 Grains, Legumes, Noodles, and Bread 150

CHAPTER 6 Sweets and Beverages 188

Glossary 200

Bibliography 212

Index 220
Contains recipes that are organized by ingredient category such as Meat and Poultry or Vegetables. Each of the recipe chapters contain additional text about techniques that are used and ingredient-specific information for creating street food dishes.
Street Food will include recipes for on-the-go items, all divided into categories including bowl foods, foods on a stick, finger foods, stuffed foods, sandwiches, and more.
Each food category includes a discussion of the fundamental cooking techniques for each and how they can be adapted for an environment where street food is being prepared.