Strengthening Community Colleges Through Institutional Collaborations: New Directions for Community Colleges, Number 165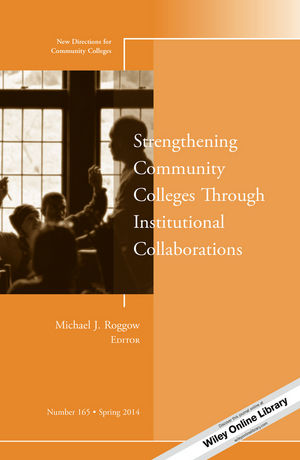 Strengthening Community Colleges Through Institutional Collaborations: New Directions for Community Colleges, Number 165
ISBN: 978-1-118-88141-5
Mar 2014, Jossey-Bass
104 pages
Description
This issue illustrates examples of effective collaborations written by community college presidents, administrators, faculty, and leaders of state governments and national organizations. Each has contributed a story illustrating a successful program that required the efforts of a range of individuals and recommendations for others to build their own successes. Topics include:
How to build effective dual enrollment programs to motivate high school students in rural areas to pursue higher education

Why collaboration is crucial for institutions that apply for federal grant funding

Effective partnering with institutional research and technology departments to advance student services and college-wide strategic planning

How to infuse service learning into curricula to engage and encourage minority students at community colleges to focus their career aspirations

How to advance community college study abroad programs through collective participation of administrators and faculty, and outside organizations

Creating and sustaining effective partnerships between a state and its local colleges.
This is the 165th volume of this Jossey-Bass higher education quarterly report series. An essential guide for presidents, vice presidents, deans, and other leaders in today's open-door institutions, this quarterly provides expert guidance in meeting the challenges of their distinctive and expanding educational mission.
EDITOR'S NOTES 1
Michael J. Roggow
FOREWORD 5
Kevin E. Drumm
1. College to High School: Kentucky's Dual Enrollment Alternative 7
Lisa G. Stephenson
This chapter illustrates the impact two dual enrollment programs have on high school students in a rural area by enabling them to take collegelevel courses at local community colleges.
2. The Role of Secondary School and Community College Collaborations to Increase Latinas in Engineering in a Rural Community 17
Soko S. Starobin, Glennda M. Bivens
This chapter shares insights from a case study about the impact one Latina counselor has on exposing rural Latina students to preengineering programs, and how institutional collaborations can increase participation among Latinas in engineering.
3. Improving Student Performance Outcomes and Graduation Rates Through Institutional Partnerships 25
Michael J. Roggow
In this chapter, the author describes useful strategies for improving student learning and performance outcomes, and how new approaches to teaching and advisement can increase college graduation and transfer rates for minority students.
4. Collaborating for Social Justice Through Service Learning 37
Tom DePaola
This chapter provides critical evidence about how the service learning program at an urban community college helps students support the development of academic knowledge and skills, while helping them understand the importance of civic engagement.
5. Turning Knowledge Into Success: The Role of Collaboration in Knowledge Management Implementation 49
Handan Hizmetli
In this chapter, the author shares valuable insights and recommendations for building a knowledge-management-oriented campus environment that can inform effective strategic planning.
6. Student Affairs and Information Technology: Collaborating in the Cloud 59
Peter Reyes Barbatis
In this chapter, the author discusses how student affairs and institutional technology departments can work together to improve satisfaction among new students as they navigate the college admissions process.
7. The Role of Key Administrators in Internationalizing the Community College Student Experience 67
Ronald D. Opp, Penny Poplin Gosetti
In this chapter, the authors argue that a range of key administrators and faculty should be involved in helping to generate student interest in study abroad and in infusing global perspectives across community college curricula.
8. Collaboration: Use of Consortia to Promote International Education 77
Rosalind Latiner Raby, Donald R. Culton, Edward J. Valeau
This chapter provides a historical overview and discourse about advancing the international education agenda thorough the use of consortia and partnerships to accelerate knowledge among college students about global topics.
9. Collaborations Between the State and Local Colleges: Sleeping With the Enemy? 87
Elizabeth Cox Brand
In this chapter, the author introduces us to the ingredients of successful partnerships between a centralized state-level department and local community colleges.
INDEX 95