Strengthening Credibility: A Leader's Workbook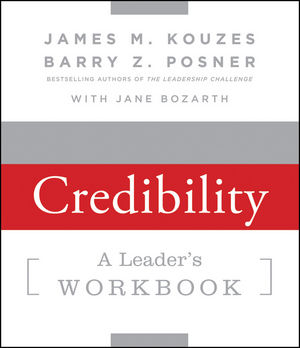 Strengthening Credibility: A Leader's Workbook
ISBN: 978-1-118-01701-2
Jul 2011, Pfeiffer
200 pages
Product not available for purchase
Description
From the authors of The Leadership Challenge, a workbook to strengthen every leader's capacity for developing and sustaining credibility
Accompanying the publication of the Second Edition of their bestselling book Credibility: How Leaders Gain and Lose It, Why People Demand It, leadership gurus James Kouzes and Barry Posner (authors of The Leadership Challenge) create a guide to help leaders put into practice The Six Disciplines of Credibility: Discovering Your Self, Appreciating Constituents and Their Diversity, Affirming Shared Values, Developing Capacity, Serving a Purpose, and Sustaining Hope. Through practical individual activities, the reader will assemble a blueprint for implementing the principles of credibility in their everyday practice of leadership.
Offers a series of activities to build leaders' understanding and application of Kouzes and Posner's proven, systematic approach to leading with credibility
Written by the authors of The Leadership Challenge and based on their bestselling book, Credibility: How Leaders Gain and Lose It, Why People Demand It
Contains easy-to-use worksheets that make efficient learning simple and practical
The credibility of its leaders is critical to the success of any organization. This workbook provides a path for mastering this foundational principle of exemplary leadership.
Preface.
1 Leadership Is a Relationship.
2 Credibility Makes a Diff erence.
3 Discipline 1: Discover Yourself.
4 Discipline 2: Appreciate Constituents.
5 Discipline 3: Affi rm Shared Values.
6 Discipline 4: Develop Capacity.
7 Discipline 5: Serving a Purpose.
8 Discipline 6: Sustain Hope.
9 Th e Struggle to Be Human.
Characteristics of an Admired Leader.
About the Authors.