Strengthening Departmental Leadership: A Team-Building Guide for Chairs in Colleges and Universities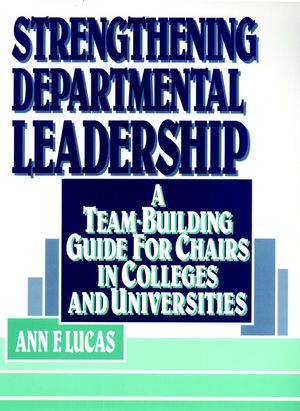 Strengthening Departmental Leadership: A Team-Building Guide for Chairs in Colleges and Universities
ISBN: 978-0-787-90012-0 October 1994 Jossey-Bass 320 Pages
Description
A first-rate book, well worth reading. Ann Lucas has taken years ofresearch and reflection and distilled them into an easilyunderstood, useful volume designed to help department chairsdevelop their leadership skills.
--William E. Cashin, director, Center for Faculty Evaluation andDevelopment, Kansas State University

A practical guide to developing the survival skills that chairsneed in order to function as leaders and build cohesive teams indepartments.
Table of contents
1. Strengthening Leadership at the Departmental Level.

2. Roles and Responsibilities of Chairs.

3. Leading the Academic Department.

4. Motivating, Evaluating, and Rewarding Faculty Members.

5. Supporting Effective Teaching in the Department.

6. Providing Feedback on Classroom Teaching.

7. Enhancing Commitments to Scholarship and Service.

8. Team Building Through Supportive Communication.

9. Managing Conflict.

10. Using Feedback from the Department.

11. The Dean's Role in Developing Departmental Leadership.

12. Survival Skills for Department Chairs.

13. Personal Strategies for Strengthening Leadership Effectiveness.
Reviews
"A first-rate book, well worth reading....Ann Lucas has taken yearsof research and reflection and distilled them into an easilyunderstood, useful volume designed to help department chairsdevelop their leadership skills." --William E. Cashin, director,Center for Faculty Evaluation and Development, Kansas StateUniversity

"No else in the field has a background like Ann Lucas' (includingclinical psychology and organizational development), and no elseoffers such knowledgeable guidance for chairs as motivators andmentors, as jugglers of difficult and unexpected situations, asaction researchers who determine and document their owneffectiveness. Highly recommAnded!" --Robert Boice, professor ofpyschology, SUNY, Stony Brook