Stress in Teachers: Past, Present and Future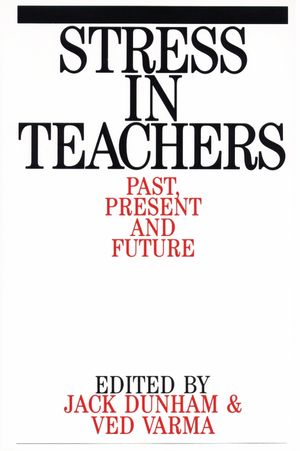 Stress in Teachers: Past, Present and Future
ISBN: 978-1-861-56082-7
Aug 1998
248 pages
Description
Examines the stress in teaching multidisciplinary concept broad enough to include physiological, psychological, organisational and legal perspectives. The editors see stress in teaching as an interactionist concept - a complex and sometimes pracarious balance between perceived work pressures, coping strategies and stress reactions. The early chapters in the book refelct this view and make contributions to understanding the causes and costs of stress in teaching. The authors of these chapters come, collectively, to the conclusion that there is an alarmingly low level of job satisfaction in taching and that turnover intentions appear to be on the increase. This pessimistic view is challenged in later chapters by professionals working in the filed of stress management. These contributions highlight the danger of focusing stress research and management. These contributions highlight the danger of focusing stress research and management strategies on the individual rather than the organization, and report the authors' "hands on" knowledge of teacher support teams and workshop and whole-school approaches to diminishing the causes and costs of teacher stress and improving training and career development. The concluding chapters demonstrate the editors belief that useful insights for workers in the education service can be gained fromstudies of workplace stress in other occupations.
Teacher Stress - Past and Present, Chris Kyriacou.
Workplaces Stress - Some Findings and Strategies, Belinda Walsh.
The Identification of Stress in teachers, Marie Brown and Sue Ralph.
Increasing Costs of Occupational Stress in teachers, Cheryl Travers and Cary Cooper.
Stress, Anger and Headteachers, Alistair Ostell.
The Psychophysiology of Stress in Teachers, John Hinton and Elke Rotheiler.
Teacher Supportteams, Harry Daniels, Angela Creese and Brahm Norwich.
The Benefits of Whole-school Stress Management, Jack Dunham and Vivien Bath.
Stress Management Training for Teachers - a Practical Guide, Marion Tyler.
Case Studies in Stressmanagement, Adrian Miles.
Workplace Stress and The law, John Usher.