Stretch: How to Future-Proof Yourself for Tomorrow's Workplace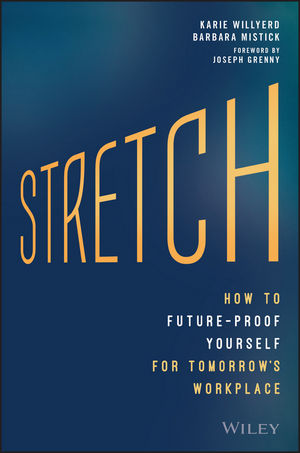 Stretch: How to Future-Proof Yourself for Tomorrow's Workplace
ISBN: 978-1-119-08711-3 January 2016 272 Pages
Description
You know you can do more with your career. And the future is going to demand more of you.
The problem is you are so busy keeping up with the day-to-day that you can't prepare for tomorrow. Stretch: How to Future Proof Yourself for Tomorrow's Workplace gives you the confidence and knowledge you need to achieve your goals in an ever-changing world. Karie Willyerd and Barbara Mistick—established experts and the collective winners of dozens of awards in the field of personal development and learning—offer evidence-based guidance on obtaining the skills you will need to thrive in tomorrow's workplace. Built on solid, global research and dozens of personal interviews with people who have achieved new and inspiring goals, Stretch offers advice, valuable insights, anecdotes, and recommendations to make achieving your goals practical and within reach.
If you are like other professionals, your biggest worry is becoming obsolete at work. Shifting technologies, fierce competition among corporations, and recruitment occurring on a global level would give anyone concern. To remain relevant in spite of change, you need to know how to:
Learn in any situation
Open your thinking to a world beyond where you are now
Connect to the people who can help you make your future happen
Seek experiences that will prepare you for tomorrow
Stay motivated through the ups and downs of a career so you can bounce forward
Stretch: How to Future Proof Yourself for Tomorrow's Workplace offers five practices to help you start, enhance, and lengthen your career by anticipating the needs of tomorrow's work environment. Don't become obsolete.  Instead, stretch to achieve your potential.
Foreword ix
Preface xi
Part 1: Introduction 1
1: The Stretch Imperative 3
Who Do You Want to Be Tomorrow? . . . Megatrends That Will Affect Your Future . . . Do You Have a Sell-By Date? . . . The Stretch Imperatives . . . An Overview of the Five Practices . . . The Story of Brandon
Part 2: It's All on You 31
2: Learn on the Fly 33
Good Enough Isn't Good Enough for Long . . . Learning a Living . . . What Does Excellence Look Like? . . . Strategies for Learning on the Fly . . . Learning Traps to Avoid . . . The Payoff . . . Stretch Summary . . . What Organizations and Managers Can Do
3: Be Open 61
The Importance of Being Open . . . Are You Closing Doors to Your Future? . . . Accept Uncertainty . . . Stretch Strategies to Be Open . . . You Are Not on Your Own . . . Stretch Summary . . . What Organizations and Managers Can Do
Part 3: You Need Options 91
4: Build a Diverse Network 93
What Is a Network? . . . The Two Networks Everyone Has . . . Why Do Diverse Networks Matter? . . . Strategies to Build a Diverse Network . . . It's All About Options . . . Stretch Summary . . . What Organizations and Managers Can Do
5: Be Greedy About Experiences 123
The Tale of Two Attorneys . . . The Experience Catch 22 . . . No Two People Are the Same . . . Boost Your Skill Set . . . Strategies for Being Greedy About Experiences . . . Managers Matter . . . Evaluate Your Options . . . Stretch Summary . . . What Organizations and Managers Can Do
Part 4: You Have Dreams 153
6: Bounce Forward 155
Don't Bounce Back—Bounce Forward . . . Silver Linings . . . Pursue Mastery . . . Fits and Starts . . . Finding Meaning in the Commotion . . . The One That Got Away . . . The Workday Blues . . . The Recipe for Springing Back . . . Mental Strategies to Help You Bounce Forward . . . Maintain the Faith . . . Stretch Summary . . . What Organizations and Managers Can Do
Part 5: Charting the Path Forward 183
7: Stretch into Your Future 185
Ten Predictions for the Future of Work . . . The Top Ten Capabilities for Tomorrow . . . The Home Stretch . . . Onward

Supplemental Materials 209
Acknowledgments 211
List of Figures and Tables 215
Appendix A: Research Methodology; Key Workplace 2020 217
Survey Findings
Appendix B: Essential Books to Learn More 223
Notes 225
Index 245
"It's likely that you will live longer, work longer, and hold more jobs than any generation that's come before. And unlike the days of lifetime employment with one company, now it's totally up to you to make your career everything you want it to be. Stretch is a book that challenges you to leave your comfort zone with its honesty and its practical approach to helping you expand your career options as far as they will go."
—Daniel H. Pink, bestselling author of Drive and To Sell is Human
"Compelling and rigorous, yet fresh in approach, the authors come within reach of extraordinary, not only as a guide for a successful career but also for making the most out of life."
—Joseph Grenny, bestselling author of Crucial Conversations
"Stretch is a true wake up call. At the heart of this book is a simple truth: the secret to thriving at work and in life lies in your hands. Mistick and Willyerd provide a remarkable read filled with great stories, compelling research, and highly practical tips to become more engaged both at work and in life."
—William Byham, Co-Founder, Chairman and CEO, Development Dimensions International, Author of Zapp! The Lightning of Empowerment
"Stretch is a fascinating read with powerful stories and solid research. No matter what your career stage, this book will help you reach a new level."
—Heather Hiles,CEO, Pathbrite, 100 Coolest People in Tech, LinkedIn Influencer
"No one will ever care about your dreams or your career as much as you do. This exceptional book gives you the tools to register your ambition and win in the fast-paced digital economy."
—Bill McDermott, CEO, SAP, Author of Winners Dream
"In today's fast-moving, multigenerational workplace, we all want more from our professional experiences. Stretch provides solid advice on how you can feel valued and in control of your career success. This book is one that will bolster your spirits and might just change your life."
—Lindsey Pollak, New York Times bestselling author of Becoming the Boss: New Rules for the Next Generation of Leaders
"Our neuroscience research has shown that experiencing hope and dreaming of your desired future helps a person to create a path to that future and ameliorate the ravages of stress and uncertainty. Willyerd and Mistick have converted complicated research and emerging trends into a delightful journey through their stories and guidance. Reading will do more than help you prepare for the future, it will help you make your dreams your reality!"
—Richard Boyatzis, Distinguished University Professor Case Western Reserve University, Co-author with Dan Goleman and Annie McKee of the international best seller, Primal Leadership. Faculty for a MOOC with half a million students enrolled
"Willyerd and Mistick have the courage to expose a raw nerve that many of today's employees feel. They don't shy away from the reality of the vulnerability many feel about not only keeping up with today, but also preparing for an ever-changing tomorrow. Stretch brings hope and inspiration to both individuals and organizations with specific tools, examples, and practical ideas to move forward."
—Joe Campbell, Talent Management Director, Nike, Inc.
"The future of work promises to be dramatically different over the next decade. Disruptive technologies, big data, demographic shifts, and demand for new skills will require new ways of thinking about careers and preparing a workforce for tomorrow. Stretch tackles these issues head on with practical advice for those in the workplace and for organizations that want to prepare their workforces for the future. Those who prepare will seize huge opportunities and with the workplace changes underway, everyone who wants to participate in tomorrow's economy should read Stretch today."
—Eva Sage-Gavin, Vice Chair of the Aspen Institute's Skills for America's Future Advisory Board
"Obsolescence. It's the single biggest concern of today's workforce. STRETCH by Willyerd and Mistick is the answer. Study the megatrends shaping how we work. Analyze their comprehensive data around why we work. Then put their original and accessible solutions into practice. Want to remain relevant? stretch, Stretch, and STRETCH again.
—Whitney Johnson, Thinkers50 Most Influential Management Thinkers, Author of critically-acclaimed Disrupt Yourself: Putting the Power of Disruptive Innovation to Work
"Research meets practice most eloquently in Stretch. The thought-provoking ideas about how to prepare for a rapidly-changing workplace will give you the edge in future-proofing yourself."
—John Boudreau, Professor and Research Director, University of Southern California and Author: Lead the Work: Navigating a World Beyond Employment
"Smart organizations are preparing now for the talent they will need for tomorrow. Stretch takes on the critical and complicated subject of why leaders need to be career makers. The excellent case studies and strong research make this book required reading."
—Laura Stein, Fortune 500 executive and board member
"Good enough is never good enough when the bar is raised or the rules change, … and both will happen. Stretch speaks to this in a powerful way. Willyerd and Mistick make the case for continual development in a world that will be unforgiving to those who ignore this challenge, and then help readers understand what it takes to engage in self-development in a meaningful way. It is the book you need to read if you want practical steps to build a meaningful, purpose-filled career for the future. This is not just a great read -- it is an important read."
—Larry Peters, Professor of Management & Leadership Development, Neeley School of Business, TCU, and Author: The Simple Truths About Leadership: Turning Your People Into Your Partners
"Willyerd and Mistick do a great job of explaining how the work landscape is changing and what we need to do about it. If you have a job or want a job then you need to read this book!"
—Jacob Morgan, Best-Selling Author of The Future of Work, Speaker & Futurist

"Rapid advances in technology, global economic change, and record unemployment have fueled a concern about falling behind and becoming obsolete in the workplace. According to global research by coauthors Willyerd (coauthor, The 2020 Workplace) and Mistick (president, Wilson Coll.), the concern is widespread. The megatrends shaping tomorrow's workplace will require new skill sets. This work outlines five key strategies to acquire the needed knowledge and connections; they can be summed up as: learn in any situation, maintain an open mindset, connect to people who can help your future, seek out experiences that will prepare you, and stay focused and motivated. Anecdotes, insights, and research-based conclusions highlight the practical relevance of each strategy and are entertainingly informative. The authors' research was sponsored by Oxford Economics and SAP (Systems Applications Products) and includes their megatrend analysis as well.
VERDICT: Thoroughly researched, approachable, with wide general appeal; the authors provide actionable guidance to help the reader grow for the workplace of tomorrow while engaging them in the occupation they have today. Extensive notes and an annotated further reading are included.
—Library Journal
"If you're waiting for your organization to train you to succeed in the unclear future of work, you're at risk of losing control of both your career and your current job. On average, according to the Center for Creative Leadership, only 10 percent of learning comes from formal training. Thus, even the most talented workers can have a "sell-by date," often one they don't see coming, say authors Karie Willyerd and Barbara Mistick in their book Stretch: How to Future-Proof Yourself for Tomorrow's Workplace.
Their research of 5,500 employees and executives in diverse industries confirms that the urgency for people to take charge of their own careers has never been greater. The question is how—and be specific, please.
Fortunately, the authors are. They start by sharing three Stretch Imperatives—it's all on you, you need options, you have dreams—which they break into five Stretch Practices: "bouncing forward," learning on the fly, building a diverse network, being "greedy about experiences," and being open to the 70 percent of on-the-job learning that happens informally. Thirty strategies to execute these practices help you "stretch" steadily and measurably.
The strategies emerge from personal stories of research participants, along with supporting data from the authors' studies and other trends, such as the rise of "unintentional de-skilling" and the growth of co-located workplaces.
Keep a pencil ready for the 30 Stretch Breaks of short self-assessments and reflection questions. Your answers build momentum for the Plan Your Future tool at the end. Not an optional assignment for any serious professional."
—AssociationsNow.com