Stretching For Dummies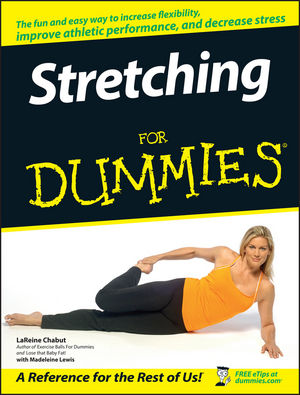 Stretching For Dummies
ISBN: 978-1-118-05101-6 February 2011 288 Pages
Description
Did you long ago learn to fear and dread stretching because of overbearing P.E. teachers who forced you to touch your toes? It doesn't have to be that way anymore. Stretching is a powerful tool that can bring you new ease of movement, an increase in your physical capabilities, and deep composure that requires you to do nothing more than breathe. You can always have access to it—and best of all, it's free!
Stretching for Dummies shows you that stretching is actually easy to do—and reveals how you can reap the amazing benefits of stretching anywhere, anytime. It explains in simple terms how you can stand taller, look thinner, keep stress from getting the best of you, keep your muscles from feeling achy, and nip injuries in the bud. You'll discover:
The why's, where's, when's, and how's of letting loose and snapping back

How to keep from hurting yourself

The benefits of stretching with a partner

How to target specific areas: such as head, shoulders, knees, and toes

The art of breathing correctly

How to use stretching to sooth lower back pain

Stretches to start and end your day right

Stretches you can do at your desk

Stretches for various stages of life—including stretches for kids and seniors
This easy-to-use reference also includes a list of ten surprising around-the house stretching accessories, along with ten common aches and pain that stretching can help. Regardless of how old or young you are, Stretching for Dummies will introduce you to a kinder and gentler form of flexibility that will reduce that nagging tension and tenderness in your muscles and truly make you feel good all over.
Table of contents
Introduction.
Part I: The Why's, Where's, When's, and How's of Letting Loose and Snapping Back.
Chapter 1: Here a Stretch, There a Stretch, Everywhere a Stretch, Stretch.
Chapter 2: Preparing for a More Flexible You.
Chapter 3: Testing Your Flexibility to Establish Your Stretching Routine.
Part II: Head, Shoulders, Knees, and Toes: Targeting Specific Areas.
Chapter 4: Taking It from the Top: Upper Body Stretches.
Chapter 5: Centering on the Core: Stretches for Your Middle.
Chapter 6: Soothing Your Lower Back without Paying for a Massage.
Chapter 7: From Your Knickers to Your Kickers: Stretches for your Bottom Half.
Chapter 8: Total-Body Stretch Routines.
Part III: From the Daily Grind to Ways to Unwind: Routines to Fit Your Life and Needs.
Chapter 9: When the Cock Crows and the Evening Wind Blows: AM/PM Stretch Routines.
Chapter 10: Stretching Out the Workday: Stretches for Work and for the Road.
Chapter 11: Basic Warm-Up and Cool-Down Stretch Routines.
Chapter 12: My Favorite Stretches for Specific Sports.
Part IV: Getting Limber As You Live: Stretches for Various Life Stages.
Chapter 13: What to Stretch When You're Expecting . . . and After.
Chapter 14: Family Fun: Kid-Friendly Stretches.
Chapter 15: Seventh Inning Stretch: Special Stuff for Seniors.
Part V: The Part of Tens.
Chapter 16: Ten Common Aches and Pains and Stretches that Can Help.
Chapter 17: Ten Surprising Around-the-House Stretching Accessories.
Index.
Reviews
"…the ideal book for beginners who want to improve their flexibility, wellbeing and get rid of nagging aches and pains." (Women's Fitness, Issue 38)