Strive: How Doing The Things Most Uncomfortable Leads to Success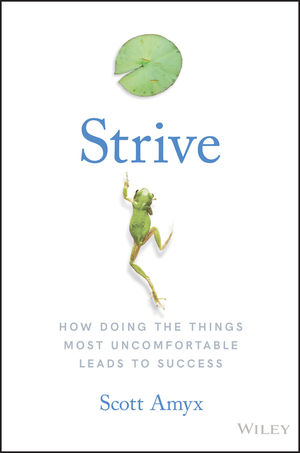 Strive: How Doing The Things Most Uncomfortable Leads to Success
ISBN: 978-1-119-38730-5
Apr 2018
224 pages
Description
Has success eluded you, no matter how hard you try?
Are you frustrated by trying to achieve your dreams by copying others? Internationally-acclaimed speaker and founder of the cutting-edge venture capital Amyx Ventures, Scott Amyx reveals how you can attain real success in your life, your way. His theory of Strive is a challenge to the conventional wisdom that has held so many people back from achieving their goals and enjoying lasting happiness. Scott rose from obscure poverty to globe-trotting success, and he invites you to share in his journey by adopting a new mindset towards your personal challenges: embrace them. Scott shows you how through stories of the most unlikely individuals who embraced difficult personal change to become outrageously successful. He helps you take stock of your own habits and practices to identify how your routine and misconceptions are holding you back. Fascinating insights from throughout history up through today's cutting-edge research show how embracing discomfort fuels lasting success.
Shape your life in new, exciting ways. You can have control over your career, your outlook, your actions, and your priorities. This book helps you get a fresh start to begin building the successful life you want.
Discover what really drives success---and how conventional wisdom is wrong
Clearly identify your own personal challenges---and how to overcome them
Delve into the latest research on high performance to create a better you
Learn how high-achievers approach challenge, change, and success
Strive is an unconventional approach to attaining your dreams because it takes what makes you unique and turns it to your advantage. Have you been duped by common myths of success? Are you disappointed by the constant struggle in life? Scott reveals how only you have the power to change your trajectory. Strive is your handbook for getting comfortable with discomfort, embracing and enjoying new challenges, and achieving real, lasting success.
Introduction ix
Winning at Life
1 Strive 1
Popular Beliefs About Success Are Profoundly Wrong Strive for Real, Lasting Success
2 Are You Passionate Enough? 13
Passion Plays
Passion and Success: What Is the Connection?
Passion Without Innate Abilities
Passion Without Knowledge and Experience
Passion Without Economic Gain
Artistic Success: Get the Picture?
Famous by 30 or Bust!
Invest Your Money for Art School—Get an MBA
3 Practice and Opportunity 33
The Practice of Practice
Youth Sports: Gateway to Success?
Unequal Success Among the Equally Qualified
Unequal Opportunity Versus You
Brazil: Rising Above Race and Class
Rising Above
4 Are You Special? 51
The Idea That Only Exceptional People Become
Successful Is Wrong
Flight: Doing It "Wright"
Power, Money, and Failure
The Power of Being Nobody Special
You Can Achieve Greatness, Regardless of Who You Are
5 The Secret Things 69
The Idea That Successful People Have Hidden Advantages Is a Lie
Lucky in Life?
That Sinking Feeling
Lucky Lottery Winners?
The Impact of External Circumstances
Many Advantages, No Success
Ursula Burns, Risk Taker
The Real Hidden Advantage
6 Disrupt Yourself 87
Use Self-Disruption to Attain Success
Disrupting the Body: Building Muscle
Disrupting the Individual
Shooting for the Stars
The Power of O
Reinventing Your Business
Disrupting Your Nation
Starting Successfully
7 Abandoning Your Comfort Zone 109
Risk It
Comfort Zone Versus Twilight Zone
Risk-Taking Impacts the World
Journey to America: In Search of Religious
Freedom
Risky Business
Amazon
Personal Risk, Incredible Growth
Into the Light
8 When the Going Gets Tough 127
Pairing Risk with Perseverance Is Necessary for Your Ultimate Success
Staying the Path, Eyes Ahead
Insights Help You Reassess Your Goals
The Blind Man Riding on the Back of a Blind Tiger
A Cinderella Story
Insights Help You Persevere
Taking the Long View and the Long Road
Coming from Nowhere, Going Somewhere
Fail Again and Again
Into the Heart of Darkness
Passion Play
9 Verify and Magnify Your Success 145
Periodically Check to See If You Are Meeting
Goals and Stretching Yourself to Achieve Success
Verify
Personal Growth
Quantification of Outcomes
Are You Coasting?
Magnify Your Success
The Magnifier
The Platform Effect
Network Effects
Now What?
10 Enhance Yourself 163
Success Without Self-Care Is Failure
Hacking the Body—By Any Means?
Biohacking
Future You
Busy = Better?
Good Health—Do You Measure Up?
Boost Your Brainpower
Stress, Rest, and Your Brain
Meditation Can Rewire Your Brain—For Good
Some Final Words
Epilogue 185
Your Personal Journey to Success Will Be Entirely
Unique
Should Success Be Measured Only by Money, Status, and Power?
The Ethics of Strive
Striving, for Life
Striving Together
Index 203