Stroke: Practical Management, 3rd Edition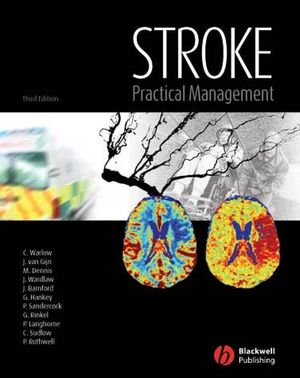 Stroke: Practical Management, 3rd Edition
ISBN: 978-1-444-35925-1 September 2011 Wiley-Blackwell 1008 Pages
Description
Completely updated edition, written by a close-knit author team
Presents a unique approach to stroke - integrated clinical management that weaves together causation, presentation, diagnosis, management and rehabilitation
Includes increased coverage of the statins due to clearer evidence of their effectiveness in preventing stroke
Features important new evidence on the preventive effect of lowering blood pressure
Contains a completely revised section on imaging
Covers new advances in interventional radiology
Contributors.
Acknowledgements.
Abbreviations.
1 Introduction.
2 Development of knowledge about cerebrovascular disease.
3 Is it a vascular event and where is the lesion?.
4 Which arterial territory is involved?.
5 What pathological type of stroke is it, cerebral ischaemic or haemorrhage?.
6 What caused this transient or persisting ischaemic event?.
7 Unusual causes of ischaemic stroke and transient ischaemic attack.
8 What caused this intracerebral haemorrhage?.
9 What caused this subarachnoid haemorrhage?.
10 A practical approach to the management of stroke and transient ischaemic attack patients.
11 What are this person's problems? A problem-based approach to the general management of stroke.
12 Specific treatments for acute ischaemic stroke.
13 Specific treatment of intracerebral haemorrhage.
14 Specific treatment of aneurismal subarachnoid haemorrhage.
15 Specific interventions to prevent intracranial haemorrhage.
16 Preventing recurrent stroke and other serious vascular events.
17 The organization of stroke services.
18 Reducing the impact of stroke and improving the public health.
Index
"Unlike many handbooks its content is not dry and it is up to date and exceptionally readable The authors managed to convey complex information about stroke and its management in a digestible yet comprehensive format. Putting the information in a historical perspective often with reference to personal experience and some humor gives the reader a sense of the personal touch and makes the reading more enjoyable and even entertaining Another important feature is the truly encyclopedic coverage of the topics. An exceptionally detailed index helps the reader navigate through the book. I highly recommend this encyclopedic stroke textbook to all medical students physicians clinicians and academicians interested in stroke or working with patients with stroke and their families For all of these readers this is truly a 'must have' table book." (
Journal of the American Medical Association
, November 2008)
"All the chapters are excellent, but the nearly 100-page chapter on the general management of stroke is a masterpiece, dealing at the highest scientific level with daily practical problems that are often neglected in other books." (New England Journal of Medicine)
Reviews of the first edition

"This is a comprehensive review of virtually all clinically important aspects of stroke and cerebrovascular disease...I highly recommend this book..." (Archives of Neurology)
"...this is medical book of the year (or even decade), you should buy two copies and give one to your mum..." (JNNP)
"'Must reading' for any physician who treats patients with stroke, it presents a unique blend of academic and clinical perspectives. I highly recommend it..." (Mayo Clinic Proceedings)
"...a remarkable piece of work...The book is written in a brilliant didactic form..." (Gerontology)
● Completely updated edition, written by a close-knit author team
● Presents a unique approach to stroke - integrated clinical management that weaves together causation, presentation, diagnosis, management and rehabilitation
● Includes increased coverage of the statins due to clearer evidence of their effectiveness in preventing stroke
● Features important new evidence on the preventive effect of lowering blood pressure
● Contains a completely revised section on imaging
● Covers new advances in interventional radiology