Structured Finance and Collateralized Debt Obligations: New Developments in Cash and Synthetic Securitization, 2nd Edition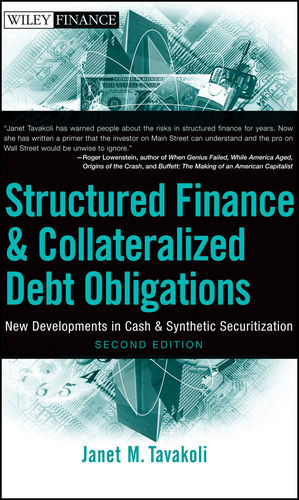 Structured Finance and Collateralized Debt Obligations: New Developments in Cash and Synthetic Securitization, 2nd Edition
ISBN: 978-0-470-44344-6 September 2008 480 Pages
Description
An up-to-date look at the exploding CDO and structured credit products market
In this fully updated Second Edition, financial expert Janet Tavakoli provides readers with a comprehensive look at the CDO and structured credit products market amid recent developments. In addition to a detailed overview of the market, this book presents key issues in valuing structured financial products and important quality control issues. Tavakoli shares her experiences in this field, as she examines important securitization topics, including the huge increase in CDO arbitrage created by synthetics, the tranches most at risk from new technology, dumping securitizations on bank balance sheets, the abuse of offshore vehicles by companies, the role of hedge funds, critical issues with subprime, Alt-A, and prime mortgage securitizations, and securitizations made possible by new securitization techniques and the Euro. While providing an overview of the market and its dynamic growth, Tavakoli takes the time to explore the types of products now offered, new hedging techniques, and valuation and risk/return issues associated with investment in CDOs and synthetic CDOs.
Preface.
Acronym Key.
CHAPTER 1: Securitization Terminology.
CHAPTER 2: Structured Finance and Special Purpose Entities.
CHAPTER 3: Credit Derivatives and Total Rate of Return Swaps.
CHAPTER 4: CDOs and the Global Capital Markets.
CHAPTER 5: Risk and Valuation Issues.
CHAPTER 6: Early CDO Technology.
CHAPTER 7: Early Warning Commercial Financial Services.
CHAPTER 8: Subprime and Alt-A Mortgages: Collateral Damage.
CHAPTER 9: Cash versus Synthetic Arbitrage CDOs.
CHAPTER 10: CDO Equity Structures.
CHAPTER 11: CDO Managers.
CHAPTER 12: Balance-Sheet CLOs and CDOs.
CHAPTER 13: Super Senior Sophistry.
CHAPTER 14: Synthetics and Mark-to-Market Issues.
CHAPTER 15: Comments on Selected Structured Finance Products.
CHAPTER 16: Credit Funds.
CHAPTER 17: The Credit Crunch and CDOs.
CHAPTER 18: Future Developments in Structured Finance.
APPENDIX: Interesting Web Sites.
Bibliography.
Index.