Struggle for the Spirit: Religious Transformation and Popular Culture in Brazil and Latin America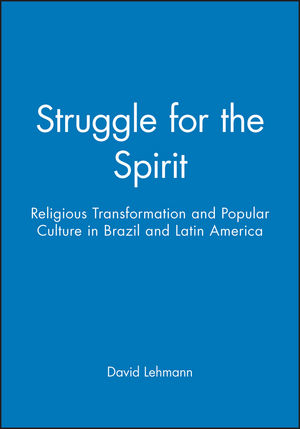 Struggle for the Spirit: Religious Transformation and Popular Culture in Brazil and Latin America
ISBN: 978-0-745-61784-8 November 1996 Polity 264 Pages
Description
For 500 years Catholicism has been the dominant religious force throughout Latin America. Its hegemony was based on a complex relationship with popular culture; the colorful and the macabre, the syncretic and the purist, the indigenous and the cosmopolitan, the popular and the erudite have combined to form a uniquely creative and reflexive cultural complex.

But in the second half of the twentieth century, just as the Church sought to reform itself by proclaiming its "preferential option for the poor", some of the most charismatic forms of Protestantism, carried along by an open and aggressive hostility to the traditions of popular culture, began to establish themselves at the heart of the popular sectors themselves - in the large urban slums, among Indian groups and, increasingly, throughout other strata of Latin American societies. Today around a fifth of the population of countries like Brazil and Chile Protestant, mostly Pentecostal. Is this a new Reformation? A cultural revolution? Or merely another confirmation of the illusion of liberation?

Drawing on detailed research in Brazil and extensive knowledge of Latin America as a whole, Lehmann explores the predicament of the Catholic Church in the face of the apparently irresistible rise of Pentecostalism, examines the structure and practices of the religious organizations and assesses the broader political implications of these developments. This well informed and carefully researched study sheds new light on one of the most remarkable cultural transformations of our time.
Abbreviations.
Glossary.
Preface.
Introduction.
Part I: Basistas:.
1. Basista Catholicism: Its Context and Character.
2. Movements of Conservation and Renewal in Modern Catholicism.
3. Vatican II, Medellin and Liberation Theology.
4. Concepts and Usages in the Texts and Speech of the 'Basista' Church.
5. Discourse.
6. Conclusion.
Part II: Pentecostals:.
7. The Organizational Dimension of Pentecostalism and Neo-Pentecostalism.
8. The Religious Dimension.
9. The Experience of Pentecostals: Exaltation, Loyalty, and Liminality.
Appendix: Pentecostalism's Social Base.
Conclusion.
Bibliography.
Index.
"
Struggle for the Spirit
comes to grips with two antagonistic contemporary modes of thought and action, Christian fundamentalism and
basismo
, through the broad sweep of history, as contemporary worldwide movements, and within the temples and chapels of the city of Salvador, Brazil. This very well written and good-humoured book should be read not only by those interested in religion, since as all good sociology it suggests relationships and connections with society as a whole. It will provoke heated debate both among Latin Americanists and among those concerned with understanding fundamentalism and
basismo
as global phenomena."
Peter Fry, Federal University of Rio de Janeiro
"Lehmann's accounts of basismo and Pentecostalism are instructive and based on ... well chosen subjects." European Journal of Latin American and Caribbean Studies
"Religion and its multiple intersections with society and politics are being belatedly recognized as enormously important in the contemporary world. David Lehmann was doing distinguished work on this matter well before this recognition. Now he offers us, in this volume, another fascinating study that distillates his long immersion on this topic as well as his extremely close knowledge of Brazil and other Latin American countries." Guillermo O'Donnell, University of Notre Dame
"David Lehmann's Struggle for the Spirit is a rich and insightful addition to the literature both on radical modern Catholicism and on radical primitive Pentecostalism in Latin America." David Martin, Times Literary Supplement
"Lehmann's book is a subtle and welcome examination of the extraordinary recent growth of Pentecostalism in Brazil and Latin America. The book is based on field research ... and draws, as well, on an array of rich secondary sources." Choice
"The style is flowing and reads like a travel story; a well-informed account, always on the look-out and guided by interrogations framed in theoretically pertinent questions. He opens up a large field of research as yet unexplored and fascinating." Latin American Studies
"Lucidly written, based on an impressive breadth of reading, long experience of Latin America and recent, original fieldwork in Brazil ... Latin Americanists will find much to stimulate them in this book ... An enjoyable and easily digested book [which] shall have a significant impact within and beyond Latin American studies." Bulletin of Latin American Research
"The book is a good introduction to the study of contemporary religious change in Brazil." Journal of Contemporary Religion
Sheds new light on one of the most remarkable cultural transformations of our time: the rise in Pentecostalism in Latin America
Based on extensive fieldwork in Brazil and a wide-ranging knowledge of Latin America
Compares Catholicism and Pentecostalism in the Latin American context; it will be of particular relevance to readers who are interested in Liberation Theology and its fate.