Student Academic Services: An Integrated Approach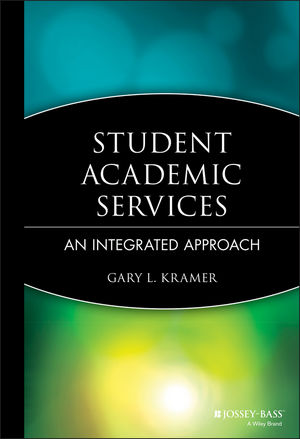 Student Academic Services: An Integrated Approach
ISBN: 978-0-787-96102-2
Aug 2003, Jossey-Bass
512 pages
Description
With contributions from a stellar panel of student services experts, Student Academic Services is a comprehensive resource that addresses the intricacies of today's academy and provides a hands-on guide to the expanded and complex functions of today's student academic services. This helpful book offers an in-depth examination of the most effective models, current practices, and trends in student services. The authors explore highly integrated student academic services practices from various campuses that reflect a holistic, interdependent approach to assessing and addressing the needs of students, and they offer a selection of effective management tools for assessment, evaluation, and continuous improvement. Student Academic Services includes a wealth of information on a wide variety of topics such as
Advances in information technology to make services available
A model for a comprehensive, integrated career services unit
A systematic and strategic view of academic advising
The creation of accurate, secure, and accessible academic records
The growth of financial aid and scholarship services
The challenges of helping a diverse student body achieve success
Integration of online student academic services
Management of change in student academic services
Future trends in student services
Preface.
The Authors.
PART ONE: Taking a Strategic Approach to Student Development.
1. Stimulating and Supporting Student Learning (Roger B. Winston, Jr.).
2. Student Academic Services: Models, Current Practices, and Trends (Darlene Burnett, Diana Oblinger).
3. The Interrelationship of Student Academic Services (John H. Schuh).
PART TWO: Profiles of Student Academic Services.
4. Enrollment Management and Conceptual Underpinnings (Jim Black).
5. The Assessment of Readiness for Student Learning in College (Gary W. Peterson, James P. Sampson, Jr., Janet G. Lenz).
6. New Student Orientation in the Twenty-First Century: Individualized, Dynamic, and Diverse (Bonita C. Jacobs).
7. Course Planning and Registration (Louise Lonabocker, J. James Wager).
8. Career Interventions: Facilitating Strategic Academic and Career Planning (Robert C. Reardon, Jill A. Lumsden).
9. Supporting Student Planning (Virginia N. Gordon, Gary L. Kramer).
10. Applying Quality Educational Principles to Academic Advising (Elizabeth G. Creamer, Don G. Creamer, Kimberly S. Brown).
11. The Essential Academic Record (W. W. (Tim) Washburn, Gene F. Priday).
12. Student Financial Services (Rita R. Owens, Bernard A. Pekala).
PART THREE: New Directions for Practice.
13. Comprehensive Academic Support for Students During the First Year of College (Joseph B. Cuseo).
14. Responding to Students' Needs (Carmy Carranza, Steven C. Ender).
15. Student Diversity and Academic Services: Balancing the Needs of All Students (Vasti Torres).
16. Putting Academic Services On-Line (Sally M. Johnstone, Patricia A. Shea).
17. Promoting and Sustaining Change (Earl H. Potter III).
18. Student-Centered Academic Services (George D. Kuh, Anthony M. English, Sara E. Hinkle).
19. Developing Providers (Diane Foucar-Szocki, Rick Larson, Randy Mitchell).
20. Leading Student Academic Services in the Twenty-First Century (Gary L. Kramer).
Name Index.
Subject Index.