Student Affairs Research, Evaluation, and Assessment: Structure and Practice in an Era of Change: New Directions for Student Services, Number 85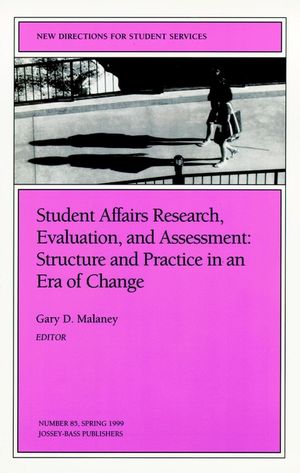 Student Affairs Research, Evaluation, and Assessment: Structure and Practice in an Era of Change: New Directions for Student Services, Number 85
ISBN: 978-0-787-94216-8
Apr 1999, Jossey-Bass
100 pages
Description
Representing the most major effort to date to examine the student affairs research office, this issue of New Directions for Student Services shows how this research can enhance and support the work of the student services staff and the campus at-large. The contributors describe how student affairs and faculty can collaborate to create an agenda for student-related research; review technological aids for collecting and analyzing data; and discuss how student affairs researchers can make their role more vital to the campus by expanding into policy analysis and information brokering. The volume also reports the results of a national study of thirty-five centralized student affairs research offices, including information on the types of research they have conducted and how institutional reorganization has impacted their research missions.

This is the 85th issue of the quarterly journal New Directions for Student Services.
2. Student Affairs Research and Evaluation: An Inside View (Linda S. Moxley).
3. Student Opinion Surveys at Northeastern University (Anthony J. Bajdek, Sungwoo Kim).
4. View from Community Colleges (GwAndolyn Jordan Dungy).
5. Policy Analysis Research: A New Role for Student Affairs Research (Gary R. Hanson).
6. Applications of Technology to Assist Student Affairs Researchers (Elizabeth A. Williams, Cary M. Anderson).
7. Collaboration Between Student Affairs and Faculty on Student-Related Research (Kevin Grennan, Margaret Jablonski).
8. Student Affairs Researcher: Information Broker (Thomas D. Hadley).