Student Engagement Online: What Works and Why: ASHE Higher Education Report, Volume 40, Number 6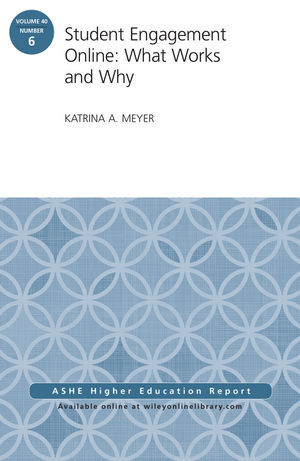 Student Engagement Online: What Works and Why: ASHE Higher Education Report, Volume 40, Number 6
ISBN: 978-1-119-00076-1 December 2014 Jossey-Bass 144 Pages
Description
What makes online learning engaging to students?

Engagement depends upon designing learning that is active and collaborative, authentic and experiential, constructive and transformative. While students and instructors can inadvertently act in several ways to decrease student engagement in online coursework, research indicates a range of options that have been proven to engage students in their online courses.

This report explores the learning theories, pedagogies, and active learning options that encourage student engagement, push them to think more deeply, and teach them how to learn. It guides instructors on how to evaluate the effectiveness of technological and software tools, and to evaluate and assess the activities, learning, and retention occurring in their online classes. Finally, it will help instructors find inspiration for engagement from the face-to-face settings that can be translated into the online environment.

This is the 6th issue of the 40th volume of the Jossey-Bass series ASHE Higher Education Report. Each monograph is the definitive analysis of a tough higher education issue, based on thorough research of pertinent literature and institutional experiences. Topics are identified by a national survey. Noted practitioners and scholars are then commissioned to write the reports, with experts providing critical reviews of each manuscript before publication.
Executive Summary ix
Foreword xiii
Student Engagement in Online Learning: WhatWorks and Why 1
Overview 1
The Challenges 2
Definitions 5
The Basis for Student Engagement on Campus 6
Results From the National Survey of Student Engagement (NSSE) 7
Importance of Online Learning 10
Relevance of Monograph 11
Organization of Monograph 12
Summary 14
Learning Theories and Student Engagement 15
Overview 15
Community of Inquiry 16
Constructivist Learning 26
Experiential Learning and Active Learning 28
Authentic Learning 28
Transformational Learning 29
Online Community 30
Cognitive Engagement 33
Transactional Distance Theory 34
Summary 35
Techniques for Student Engagement Online 37
Overview 37
Moore's Interaction/Engagement Strategies 38
Online Discussions 41
Active or Authentic Pedagogies 44
Instructor Activities 46
Student Preparation and Skills 49
Use of Instructional Design 52
Multiple Paths 57
Use of Technologies and a Caution 58
Gender, Ethnicity, and Other Differences 60
Guides to Engagement Online 62
Research Needed 64
Summary 65
Effects From Student Engagement Online 67
Overview 67
Engagement and Student Learning 68
Engagement and Other Outcomes 71
Research Needed 72
Summary 72
Limits to Student Engagement 75
Overview 75
Characteristics of Students 75
Characteristics of Instruction 79
Research Needed 85
Summary 86
Next Steps 89
Overview 89
Theories to Use 89
Instructor, Know Your Students 91
Learn How to Learn 92
Be Clear About Educational Objectives 93
Some Lessons About Engagement Strategies 94
Instructor, Know Yourself 95
Help for Administrators 96
Future Research 98
Helpful Directions for the Future 100
Summary 101
References 105
Name Index 119
Subject Index 125
About the Author 129