Student Services: A Handbook for the Profession, 4th Edition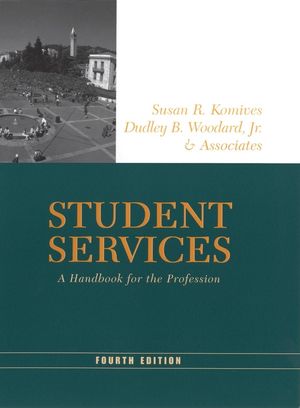 Student Services: A Handbook for the Profession, 4th Edition
ISBN: 978-0-787-97123-6
Jun 2003, Jossey-Bass
768 pages
Description
Since it was first published in 1980, Student Services: A Handbook for the Profession has become a classic reference in the field. In the fourth edition of this important resource the contributors'—a stellar panel of student affairs scholars—examine the changing context of the student experience in higher education, the evolution of the role of student affairs professionals, and the philosophies, ethics, and theories that guide the practice of student affairs work. Comprehensive in scope, this book covers a broad range of relevant topics including the development of student affairs, legal and ethical foundations of student affairs practice, student development, learning and retention theories, organizational theory, dynamics of campus environments, strategic planning and finance, information technology in student affairs, managing human resources, multiculturalism, teaching, counseling and helping skills, assessment and evaluation, and new lessons from research on student outcomes.
Preface.
The Authors.
PART ONE: HISTORICAL ROOTS AND CONTEMPORARY CONTEXT.
1. Historical Overview of American Higher Education (John R. Thelin).
2. Institutional Diversity in American Higher Education (Sylvia Hurtado).
3. The Many Dimensions of Student Diversity (Elaine El-Khawas).
PART TWO: PROFESSIONAL FOUNDATIONS AND PRINCIPLES.
4. The Development of Student Affairs (Elizabeth M. Nuss).
5. Philosophies and Values Guiding the Student Affairs Profession (Robert B. Young).
6. Ethical Standards and Principles (Jane Fried).
7. Legal Foundations of Student Affairs Practice (Margaret J. Barr).
PART THREE: THEORETICAL BASES OF THE PROFESSION.
8. The Nature and Uses of Theory (Marylu K. McEwen).
9. Psychosocial, Cognitive, and Typological Perspectives on Student Development (Nancy J. Evans).
10. New Perspectives on Identity Development (Marylu K. McEwen).
11. Student Learning in Higher Education (Patricia M. King).
12. Organizational Theory (George D. Kuh).
13. Dynamics of Campus Environments (C. Carney Strange).
14. Student Success (John M. Braxton).
PART FOUR: ORGANIZING AND MANAGING PROGRAMS AND SERVICES.
15. Organization and Functions of Student Affairs (Gwendolyn Jordan Dungy).
16. Strategic Planning and Finance (John H. Schuh).
17. Information Technology in Student Affairs (William Barratt).
18. Managing Human Resources (Jon C. Dalton).
PART FIVE: ESSENTIAL COMPETENCIES AND TECHNIQUES.
19. Multiculturalism (Donna M. Talbot).
20. Leadership (Judy Lawrence Rogers).
21. Teaching (Larry D. Roper).
22. Counseling and Helping Skills (Roger B. Winston, Jr.).
23. Advising and Consultation (Patrick Love).
24.. Conflict Resolution (Saundra Lawson Taylor).
25. Community Building and Programming (Dennis C. Roberts).
26. Assessment and Evaluation (M. Lee Upcraft).
27. Professionalism (D. Stanley Carpenter).
PART SIX: LAYING NEW FOUNDATIONS FOR THE FUTURE.
28. New Lessons from Research on Student Outcomes (Leonard L. Baird).
29. Using the Lessons of Research to Develop Partnerships (Charles C. Schroeder).
30. Shaping the Future (Dudley B. Woodard, Jr., and Susan R. Komives).
Epilogue.
RESOURCES.
A. NASPA's Standards of Professional Practice.
B. ACPA's Statement of Ethical Principles and Standards.
C. ACPA's Policies and Procedures for Processing Complaints of Ethical Violations.
Name Index.
Subject Index.