Student Solutions Manual to accompany Calculus: Several Variables, 10e (Chapters 13 - 19)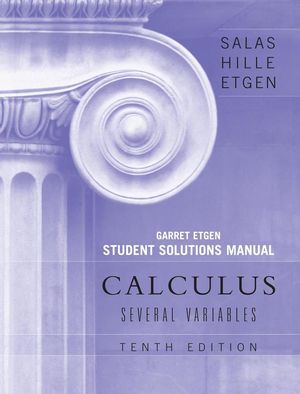 Student Solutions Manual to accompany Calculus: Several Variables, 10e (Chapters 13 - 19)
ISBN: 978-0-470-12729-2 February 2007 240 Pages
Description
A comprehensive solutions manual for those using the Calculus: One and Several Variables, 10th Edition textbook
Calculus: One and Several Variables, 10th Edition offers a thorough overview of introductory calculus concepts and application?focusing on comprehension, problem solving, and real-world usage. Readers have turned to Salas for years in order to learn the difficult concepts of calculus. The book consistently provides clear calculus content to help them master these concepts and understand its relevance to the real world. This manual is an excellent tool for providing instant feedback to example problems that may be found on modern calculus exams.
Table of contents
Limits and Continuity.
Differentiation.
The Mean-Value Theorem and Applications.
Integration.
Some Applications of the Integral.
The Transcendental Functions.
Techniques of Indeterminate.
The Conic Sections.
Polar Coordinates; Parametric Equations.
Sequences; Intermediate Forms; Improper Integrals.
Infinite Series.
Vectors.
Vector Calculus.
Functions of Several Variables.
Gradients; Extreme Values; Differentials.
Double and Triple Integrals.
Line Integrals and Surface Integrals.
Appendices.
Answers to Odd-Numbered Exercises.
Index.
Table of Integrals.