Student Solutions Manual to accompany Mathematics:An Applied Approach, 8e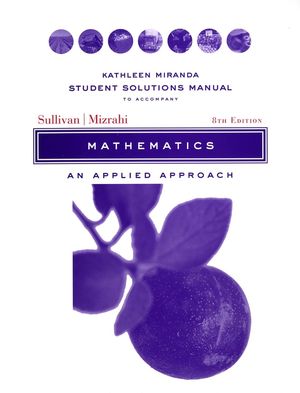 Student Solutions Manual to accompany Mathematics:An Applied Approach, 8e
ISBN: 978-0-471-33379-1
Dec 2004
936 pages
Chapter1. Linear Equations.
Chapter 2. Systems of Linear Equations; Matrices.
Chapter 3. Linear Programming: Geometric Approach.
Chapter 4. Linear Programming: Simplex Method.
Chapter 5.  Finance.
Chapter 6. Sets; Counting Techniques.
Chapter 7. Probability.
Chapter 8. Additional Probability Topics.
Chapter 9. Statistics.
Chapter 10. Functions and Their Graphs.
Chapter 11. Classes of Functions.
Chapter 12. The Limit of a Function.
Chapter 13. The Derivative of a Function.
Chapter 14. Applications: Graphing Functions; Optimization.
Chapter 15. The Integral of a Function and Applications.
Chapter 16. Other Applications and Extensions of the Integral.
Chapter 17. Calculus of Functions of Two or More Variables.
Appendix A. Review.
Appendix B. Using LINDO to Solve Linear Programming Problems.
Appendix C. Graphing Utilities.