Students and Dyslexia: Growing Up with a Specific Learning Difficulty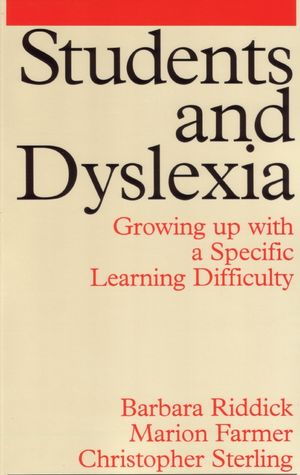 Students and Dyslexia: Growing Up with a Specific Learning Difficulty
ISBN: 978-1-861-56041-4 March 2011 216 Pages
Description
Drawn from a research study of university students with dyslexia, this book presents transcripts of in-depth interviews in which students give compelling accounts of their experiences of growing up with dyslexia. The book is intended to help students or prospective students with dyslexia and also the people teaching them.
Table of contents
Preface.
Acknowledgements.
Chapter 1 Introduction.
Chapter 2 An overview of the Study.
Chapter 3Andy.
Chapter 4 Janet.
Chapter 5 Peter.
Chapter 6 June.
Chapter 7 Caroline.
Chapter 8 Sean.
Chapter 9 Patrick.
Chapter 10 Jenny.
Chapter 11Henry.
Chapter 12 Summary and conclusions.
Appendix.
References.
Index.