Studio and Location Lighting Secrets for Digital Photographers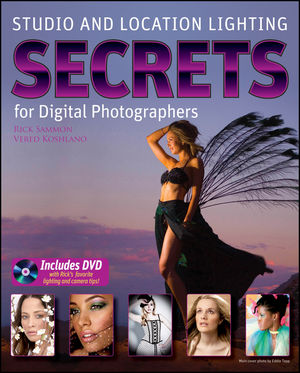 Studio and Location Lighting Secrets for Digital Photographers
ISBN: 978-0-470-57043-2
Mar 2011
272 pages
Description
Improve your photography with more than 200 lighting tips from a top photographer

Written by Canon Explorer of Light Rick Sammon and leading fashion and studio photographer Vered Koshlano, this guide is packed with professional advice on the essential element of photography: lighting. It provides detailed information and insider secrets that are bound to make you a better photographer.

You'll learn the basics of studio lighting as well as how to achieve special effects. A 90-minute DVD is included, with additional tips on using reflectors, diffusers, accessory flashes, and more.
Explores the basics of studio lighting in various situations
Features more than 200 lighting tips and secrets for planning and taking the most impressive digital images in the studio
Compares available camera equipment, accessories, software, and printing options
Covers post-shoot digital darkroom techniques and workflow tips and tricks
Companion DVD includes advice on making the most of accessories such as diffusers, reflectors, and accessory flashes
Written by two top professional photographers and illustrated with full-color examples
Studio and Location Lighting Secrets provides information from the pros to improve your photograpic skills.
Note: CD-ROM/DVD and other supplementary materials are not included as part of eBook file.
About the Authors.
Introduction.
Part I: Studio Starter Kits.
Basic Home Studio.
Basic Hot-Light Kit.
Basic Strobe Kit.
Simply Beautiful.
Garage Glamour.
Part II: Our Lenses.
Love Those Longer Lenses.
Studio Lighting and Lens Lineup.
Modeling Light and Fun Photos.
Favorite Lens for On-Location Portraits.
Favorite Lens for Environmental Portraits.
Part III: Photo Composition and Model Positioning.
Shoot Horizontals and Verticals.
Get Close and Closer.
Bank on Professional Backgrounds.
The All-Important Background.
Contrasting Colors vs. Tone on Tone.
Props Pay Off.
Shooting a Composite.
Finding and Working with Models.
Part IV: Creative Lighting Tips.
Overcome Meter-Challenging Exposure Situations.
See Light in the Eyes.
A Word on Eyeglasses.
Photographing Shiny Objects.
Low Key versus High Key Lighting.
Play with Light Placement.
Dramatic Hair Light.
Work Hard at Creative Lighting.
Tips for Baby Shots.
Balancing Act.
Test, Testing, Testing.
Repositioning the Flash.
Add an Eff ect for a Creative Portrait.
Part V: Hooked on a Feeling.
Create a "Look".
Make Eye Contact … or Not.
Go For a Total Transformation.
Master Makeup.
Understand Body Language.
Part VI: Oh, the Details.
Watch the Hands.
Notice the Nails.
Pay Attention to the Nose.
Watch the Lips.
Gain the Model's Trust.
Part VII: The Beauty of Black and White.
Good Production Trumps Lighting.
Much Space Needs Much Light.
Using a Light in Your Frame.
Main Light Selection.
Have a Great Model.
Part VIII: Tools of the Trade.
Basic Diffuser Setup.
Basic Reflector Setup.
Basic Flash/Diffuser Portraits.
Flash/ Diffuser with Reflector Keeper.
Basic Flash/ Reflector Portraits.
Flash/ Reflector Keeper.
Creative Lighting Accessory.
Mo' Behind-the Scenes Photos.
Try a Triflector.
Variations on a Theme.
Jump into Creative Outdoor Lighting.
Just Takes One.
Combine Flash and Ambient Light.
Dealing with Contrast.
Digital Darkroom Explorations.
Karsh-like Images.
Part IX: Unleash Yourself.
Wireless Tools Expand Your Capabilities.
Trigger Your Camera Remotely, Too!
New Features Add to the Fun.
… and It Looks Good, Too!
One Flash/ Lighting Kit Combo.
Part X: With a Little Help from Friends.
Keep It Simple.
Work with Twilight.
Light … and Lack of Light.
Dramatic Side Light.
Soft en an Off -Camera Flash.
A Regal Look.
Focus Carefully When Shooting With Fast Lenses.
Know the Fundamentals.
Flag It.
Have a Story to Tell.
Add Some Imagination.
Carefully Light the Background.
Use Your Mind's Eye.
Consider Rim Light.
The Defining Moment.
Create an Intimate Moment.
Light Illuminates, Shadow Defines.
Shape the Light.
Shoot and Light 'em Separately.
Inspired by the '60s.
Do-it-Yourself Tilt/ Shift.
Blessed Soft Lighting.
It's All About Light.
Go to Extremes.
Plan the Shoot, Process the Shot—Carefully.
Use What You've Got.
Bounced Light is Nice.
Shoot Beautifully Inside the Studio… and Out.
Traveling at Lightspeed.
Use Sunlight as the Key Light.
Many Lights + Large Crew = Cool Image.
Who Needs Expensive Gear?
If You Don't Have All Day … .
Teaming a Photographer and Stylist. 
Part XI: Student Studio Lighting Experiments.
Shannon Bradley.
Amy Dieker.
Chayanne Marfisi
Monica Phillips.
Chris Pino.
Jacquie Puoci.
Amy Roberts.
Lisa Wood.
Part XII: Photoshop Enhancements.
Count on Changes.
Add a Spotlight or Omni Light.
Change the Lens and F-Stop.
Create Beautiful Black-and-White Prints.
Beyond Black-and-White.
Create a High-Fashion Stylized Look.
Frame It.
Add a Nice Vignette.
Create Professional Color Effects.
Add Simple Artistic Effects.
Enhance Details.
Go for a Spin and Blur Reality.
Create Movie-Star-Style Lighting.
All Together Now.
Part XIII: World is my Studio.
Love, Respect and Seeing.
Envision the End Result.
Work with Backgrounds.
Create the Disequilibrium Effect.
See the Light.
Control the Light with a Reflector.
Control the Light with a Flash.
Look for and Create Diffused Light.
Models, Props and Makeup.
Make Pictures.
Meter Your Exposures.
Work with Colors.
The Eyes Have It.
Paying People.
Play with Plug-ins.
HDR Plug-in Effects.
Working with Mirrors.
Shooting Profi les and Silhouette.
Draw More Attention to the Subject.
Why Off -Center Composition Works.
Don't Underestimate the Importance of an Interesting Subject.
Bring Back the Magic of Portraiture.
Part XIV: Cool Websites for Flash Info.
Strobist.
PocketWizard.
Westcott.
LumiQuest.
Back to Back.
Canon Digital Learning Center.
Bogen Imaging.
Lexar.
Kelby Training.
Honl Photo.
Rick Sammon.
DVD Appendix .
EULA.
Index.