Study Guide to accompany Managerial Accounting for the Hospitality Industry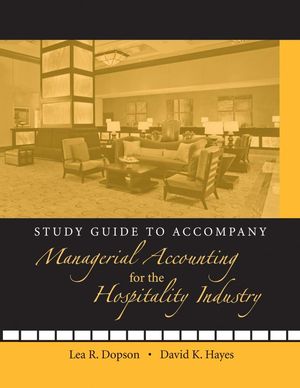 Study Guide to accompany Managerial Accounting for the Hospitality Industry
ISBN: 978-0-470-14055-0
Oct 2008
216 pages
Description
Though not all hospitality students want to be accountants, managerial accounting is a crucial skill for all hospitality students. Written for aspiring hospitality managers rather than accountants, this resource focuses on how accounting principles apply directly to hospitality management. With a reader-friendly style suitable for those with no prior accounting background, this book makes accounting fun with practical examples scattered throughout each chapter that clearly illustrate accounting concepts and theories. A running case study helps readers immediately apply what they?ve learned to the types of key management decisions made at a full-service resort.
Part I: Accounting Fundamentals.
Chapter 1. Hospitality Industry Accounting.
Chapter 2. Accounting Fundamentals Review.
Part II: Financial Statements.
Chapter 3. The Income Statement.
Chapter 4. The Balance Sheet.
Chapter 5. The Statement of Cash Flows.
Chapter 6. Ratio Analysis.
Part III: Management of Revenue and Expense.
Chapter 7. Food and Beverage Pricing.
Chapter 8. Revenue Management for Hotels.
Chapter 9. Managerial Accounting for Costs.
Part IV: Accounting Information for Planning.
Chapter 10. Forecasting in the Hospitality Industry.
Chapter 11. Budgeting and Internal Controls.
Chapter 12. Capital Investment, Leasing, and Taxation.
Answers to Key terms & concepts review, Discussion Questions and Quiz Yourself.