Study Guide to accompany Managerial Economics: Analysis, Problems, Cases, 8th Edition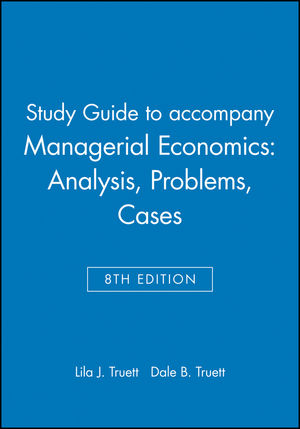 Study Guide to accompany Managerial Economics: Analysis, Problems, Cases, 8th Edition
ISBN: 978-0-471-46247-7
Jul 2003
336 pages
Description
Truett and Truett's Eighth Edition shows how to use economic analysis to solve problems and make effective decisions in the complex world of business. The highly successful problem-solving approach, clear and accurate presentation of economic theory, and outstanding cases combine to make the best presentation of managerial economics yet.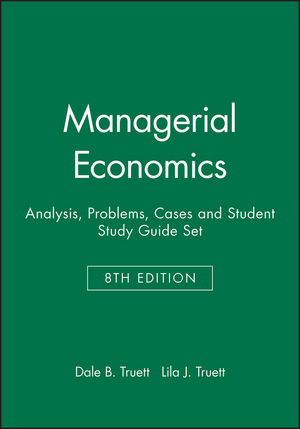 Original Price:$190.90
Purchased Together:$177.95
save $12.95
New chapter "Games, Information, and Strategy."
New introduction featuring "10 principles of economics for managers" highlights the role of managerial economics in helping managers to make sound decisions.
Revised discussion of linear demand curve and marginal revenue. (Non-calculus demonstration of difference between slope of linear demand curve and slope of MR.)
Updated real-world examples.
Additional end-of-chapter questions and problems.
Numerical examples, set off from the text copy, call attention to the steps that must be taken to solve specific types of problems, including elasticity calculations, cost minimization, profit maximization, present value, and more.
Managerial Perspectives boxes provide high-interest, current examples of how real-world firms have addressed issues and decision problems discussed in the text.
Extended International Capsules present the global dimension of managerial economics as it is applied in the international marketplace. Students gain a global perspective unique among managerial economics texts.
Integrating Cases challenge students to apply what they have learned in making solid decisions on complex issues.
End-of-chapter problems provide a wide range of exercises that students can work through to enhance their abilities in applying techniques presented in chapters.
A numbering sequence for end-of-chapter problems makes it easy for students and instructors to identify calculus-based problems, providing flexibility in the use of calculus.