StudyOn VCE Health & Human Development Units 3&4 2E (Online Purchase)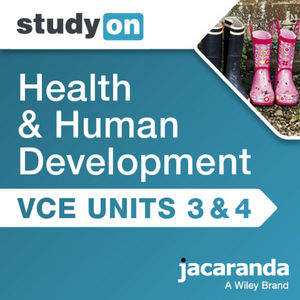 StudyOn VCE Health & Human Development Units 3&4 2E (Online Purchase)
ISBN: 978-1-118-59911-2
Feb 2014, Jacaranda
392 pages
Product not available for purchase
Description
studyON; the next generation in online study, revision and exam practice!

studyON is an interactive and highly visual online tool designed to help maximise your exam results. All the course content is presented within a system that is easy to navigate and tracks your progress.

By using studyON you'll be able to clearly identify strengths and weaknesses prior to the exams. You can then confidently target areas of greatest need, enabling you to achieve your best results.

The studyON booklets are also a great study companion as they contain an image of each online concept screen and practice questions with space for your working out and notes.

studyON VCE Health and Human Development Units 3&4 2e contains:
• past VCAA exam questions online
• 400+ exam practice questions
• instant feedback
• online progress tracker
• videos and animations
• and much more!

Change the way you approach study, revision and exam practice today with studyON!



What is onlinepurchase?
onlinepurchase is a Jacaranda digital only product.
Following payment you will receive a registration code via email.
Go to www.jacplus.com.au to register your code and access your digital resource.