Sub-Contracts DOM/1 and DOM/2: A Guide to Rights and Obligations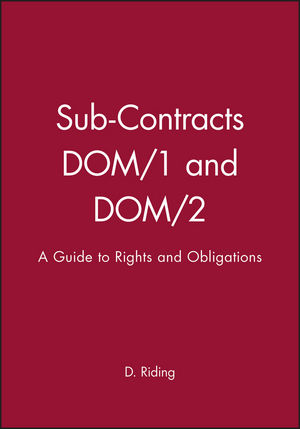 Sub-Contracts DOM/1 and DOM/2: A Guide to Rights and Obligations
ISBN: 978-0-632-04125-1 December 1996 Wiley-Blackwell 260 Pages
Description
Much construction work is done by sub-contractors, particularly the so-called domestic sub-contractors, appointed by the main contractor. The former usually work under the standard sub-contract DOM/1 for use with JCT 80, or DOM/2 for use with JCT 81--where there is contract design. Unfortunately, many sub-contractors' rights are often abused because they have little or no understanding of their rights and obligations under the new contracts. Written by an experienced quantity surveyor, this new book provides a clause-by-clause summary of these important principles.
Table of contents
Basic principles; Domestic contract DOM/1; Domestic contracts DOM/2; Future developments; Flowcharts; Index
What's New
* large proportion of building work now done by sub-contractors * shortage of guidance on standard sub-contracts and much misunderstanding among sub-contractors * sub-contractors' rights often abused by main contractors, as highlighted by the Latham Report * book written by a highly experienced quantity surveyor.