Subliminal Persuasion: Influence & Marketing Secrets They Don't Want You To Know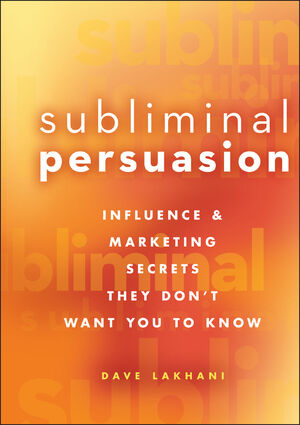 Subliminal Persuasion: Influence & Marketing Secrets They Don't Want You To Know
ISBN: 978-0-470-28209-0 July 2008 224 Pages
Description
If you're an entrepreneur, salesperson, advertiser, or business owner, understanding the art of subliminal persuasion will give your bottom line a big boost. In Subliminal Persuasion, master marketer Dave Lakhani reveals in step-by-step detail the exact techniques that really work in persuading and influencing others. It's not about lying or tricking anyone. It's about know what will appeal to people and how communicate that appeal effectively, profitably, and ethically. This is marketing that really convinces.
Acknowledgements.
Preface.
Chapter 1. Creating Message Contagion .
Chapter 2. Leverage Applied Propaganda™.
Chapter 3. Position and Package Your Legend.
Chapter 4. Control the Emotion and the Content.
Chapter 5. Get a Real Endorsement.
Chapter 6. Understand Beliefs and True Believers.
Chapter 7. Harness the Power of The People's Media.
Chapter 8. Deliver the Experience.
Chapter 9. The Subliminal Power of Words.
Chapter 10. Creating a Cult Following.
Chapter 11. Seduction.
Afterword – Ben Mack.
Appendix 1 – Coaching for Influence – Dr. Rachna Jain.
Bibliography.
Index.