Subsurface Conditions: Risk Management for Design and Construction Management Professionals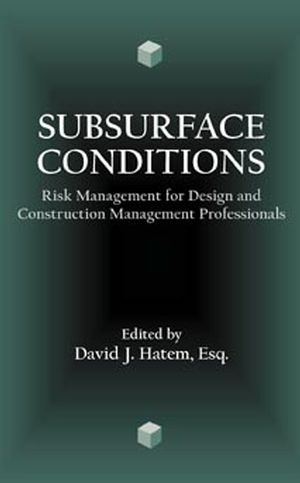 Subsurface Conditions: Risk Management for Design and Construction Management Professionals
ISBN: 978-0-471-15607-9 January 1998 465 Pages
Description
Subsurface projects can spell tremendous liability and risk concerns for geotechnical engineers, who pay among the highest liability insurance rates among A/E/C professionals. Written for a non-legal audience by a recognized liability authority, this helpful book brings together the information and expertise needed to manage the non-technical aspects of such projects. Discusses the implications of errors and omissions, applicable law, bid and contract document disclosure, and much more. Filled with relevant case studies.
Table of contents
Client-Consultant Selection (D. Thompson).

The Professional Services Agreement (J. Monsees & T. Smirnoff).

Subsurface Investigations and Geotechnical Report Preparation (G. Brierley).

Preparation of Contract Documents for Subsurface Projects (E. Abbott).

Risk Management Considerations for Complex Subsurface Projects (T. Neff).

Engineers' Involvement in Construction Means and Methods of Subsurface Projects (R. Simon).

Risk Management Considerations for Engineers Engaged by Contractors on Subsurface Projects (J. Guertin).

Role of the Professional Consultant in the Evaluation of Differing Site Conditions Claims (S. Poulos).

Dispute Resolution Mechanisms for Differing Site Conditions Claims (H. Caspe).

Professional Liability and Risk Allocation/Management Considerations for Design and Construction Management Professionals Involved in Subsurface Projects (D. Hatem).

Insurance for Subsurface Projects (T. Gilmartin).

Appendix.

Index.