Subsurface Microbiology and Biogeochemistry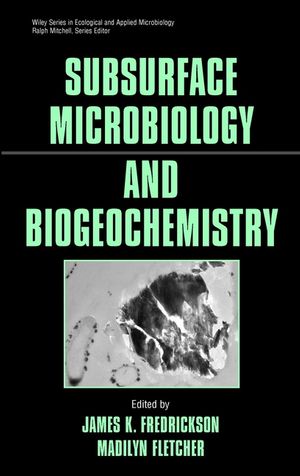 Subsurface Microbiology and Biogeochemistry
ISBN: 978-0-471-31577-3
Jan 2001
352 pages
Description
Until recently, much of our understanding of microorganisms in the subsurface was largely a matter of speculation. Recent advances in technology and methodology have enabled the discovery and study of microorganisms in deep subsurface environments. Researchers are now able to explore relationships between microbial physiology, taxonomy, and genetics, and the environment of these microorganisms, including geochemical, geological, and hydrological properties. Subsurface Microbiology and Biogeochemistry is a necessary learning tool that focuses on the integration of microbiology and the geosciences.
The subsurface environment provides numerous niches for microorganisms and this book presents research in subsurface microbiology in addition to providing an understanding of the broad range and diversity of the previously ""hidden"" subterranean organisms. Contributing chapters from experts in their respective disciplines discuss the results of deep subsurface microbiology studies and enlighten the reader as to how the subsurface environment has grown to represent a true frontier for microbiological research.
Subsurface Microbiology and Biogeochemistry reviews an important topic that is at the vanguard of subsurface environment studies with implications on the search for life on other planets. The discovery of subsurface microorganisms creates a multitude of opportunities for microbiologists and engineers in academia and biotechnology, with this book at the forefront of essential reading.
Preface.

Contributors.

Introduction.

Biogeochemical and Geological Significance of Subsurface Microbiology (J. Fredrickson & T. Onstott).

Transport of Microorganisms in the Subsurface: The Role of Attachment and Colonization of Particle Surfaces (M. Fletcher & E. Murphy).

ENVIRONMENTS AND MICROORGANISMS.

Constraints on the Distribution of Microorganisms in Subsurface Environments (F. Colwell).

Diversity and Activity of Microorganisms in Deep Igneous Rock Aquifers of the Fennoscandian Shield (K. Pedersen).

Vadose Zone Microbiology (T. Kieft & F. Brockman).

BIOGEOCHEMICAL PROCESSES.

The Use of Geochemistry and the Importance of Sample Scale in Investigations of Lithologically Heterogeneous Microbial Ecosystems (J. McKinley).

Reduction of Iron and Humics in Subsurface Environments (D. Lovley).

Microbial Sulfur Cycling in Terrestrial Subsurface (E. Crossman & S. Desrocher).

Intrinsic Bioremediation of Organic Subsurface Contaminants (E. Madsen).

FUTURE TRENDS.

Nucleic Acid Analysis of Subsurface Microbial Communities: Pitfalls, Possibilities, and Biogeochemical Implications (D. Chandler & F. Brockman).

The Deep Biosphere: Lessons for Planetary Exploration (C. McKay).

Index.
""Recent advances...have enabled the discovery and study of previously hidden microorganisms in deep subsurface environments...In this volume...researchers focus on the integration of microbiology and the geosciences."" (SciTech Book News Vol. 25, No. 2 June 2001)

""Following an introduction into subsurface microbiology and biogeochemistry, this book has sections discussing environments and microorganisms, biogeochemical processes, and future trends."" (CAB Abstracts 2001)