Subversive Words: Public Opinion in Eighteenth-Century France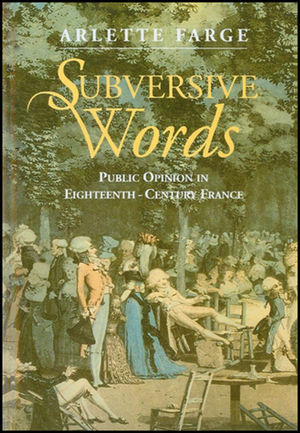 Subversive Words: Public Opinion in Eighteenth-Century France
ISBN: 978-0-745-61378-9 December 1994 Polity 232 Pages
Description
This important and original book addresses the nature of public opinion, the relation between rulers and ruled, and the role of popular rumours in eighteenth century France. Arlette Farge draws on chronicles, newspapers, memoirs, police records and newsheets to show that ordinary Parisians had definite opinions on what was happening in their city.
Table of contents
Foreword.
Introduction.
Part I. Journals, Newspapers and Policemen:.
Scenes from Street Life:.
1. Words, Scorned and Persecuted.
2. Words Caught in Flight: Government, Information and Resistance.
Part II. Speeches of Discontent:.
Forms and Motifs:.
3. Mobility and Fragmentation.
4. Motifs.
Part III. Speaking Against the King, or.
Words from the Bastille:.
5. 'Who is to Stop me Killing the King?'.
6. 'Your Worthy Subjects Deserve a King who Shall.
Surpass Them', or, the Constitution of Successive.
Figures of Royalty from 1744 to 1775.
Conclusion.
Notes.
Index.
Reviews
'Interesting and sophisticated ... her book is truly original. Restif de la Bretonne, the 'Rousseau du ruisseau', would have cherished these pages which introduce us to a side of popular Parisian life that we hardly knew.'
The Times Literary Supplement
'Farge is an eloquent, almost poetic, writer who makes a compelling case ... Farge's primary impulse is not to devise world historical schemata, but to retrieve and redeem the voices of the forgotten. This rare empathy has produced a work that is both devlishly clever and deeply moving.' Joel M. Rainey, Harvard College
'Subversive Words is a fascinating study of Parisian society during the reign of Louis XV ... Subversive Words is of interest and value to anyone concerned with the power of language, particularly in terms of its capacity for subversion and construction of alternative realities. The volume also offers an excellent overview of the effects of enlightenment thought on ideas of kingship, monarchy, and the role of the individual in society.' Jennifer Smith, University of Western Australia
'Farge's discussion is certainly conducted in an accessible fashion, and illuminated by a series of compelling case-studies. The translation is accurate and readable. Subservive Words adds a further dimension to the rich but complex picture of pre-revolutionary Paris that has emerged over the past decade.' British Journal for eighteenth-century Studies
Features
The author is well known as a key figure in the younger generation of French historians. She has a very high reputation
This is an outstanding account of public opinion in early modern Europe
The study is also relevant to broader debates in social and political theory concerning the nature and development of the "public sphere".