Success in Veterinary Practice: Maximising clinical outcomes and personal well-being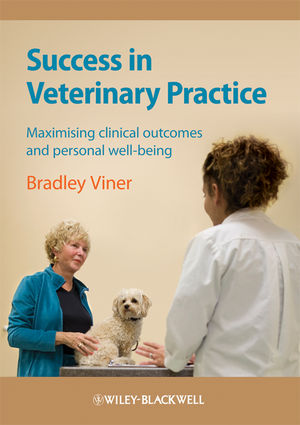 Success in Veterinary Practice: Maximising clinical outcomes and personal well-being
ISBN: 978-1-405-16950-9
Jan 2010, Wiley-Blackwell
224 pages
Description
Whilst financial success can provide a short term basis for our motivation and well-being, long term satisfaction is only likely to be achieved if there is harmony between our personal values and goals and our professional objectives, and we are content with the place that our profession occupies within our lives.
—Bradley Viner

What does success in veterinary practice mean to you and how do you hope to achieve it? Going much further than a practice management book, Success in Veterinary Practice will help you to find your answers to the big questions:
How will you achieve your goals in your veterinary career?
How do you uphold your professional values in a commercial world?
How can you improve your work-life balance?
Bradley Viner guides you on the development and application of skills and traits needed to improve the quality of care that your practice offers to your clients and patients, the working environment that the business offers to the whole practice team, and your own well-being.
This book provides a framework for reflection, raising questions that will help you to think more closely about what you do, how you do it, why you do it, and how you could do it better. Key concepts discussed include: being proactive, measuring outcomes, change management, team leadership, and effective communication.
Drawing on the author's mix of hands-on experience and academic study, Success in Veterinary Practice will help veterinary practitioners at all levels of their career to develop skills that they can apply to both personal and practice development. Those who work closely with veterinarians, as well as those aspiring to a career in this field, will gain useful insight into the challenges faced.
Buy Both and Save 25%!
Original Price:$138.98
Purchased together:$104.23
save $34.75
Cannot be combined with any other offers.
Acknowledgements.
Introduction.
Chapter 1 Caring about Quality.
Chapter 2 Personal Well-Being.
Chapter 3 Beliefs, Values, Goals and Motivation.
Chapter 4 Improving Clinical Performance.
Chapter 5 Good Communications.
Chapter 6 Effective Leadership.
Chapter 7 Postgraduate Learning.
Chapter 8 The Reflective Practitioner.
Chapter 9 The Secrets of Success.
References.
Index.
""This book does a good job of gearing the information towards veterinarians and it is useful in helping veterinarians discover what is important to them and how to get the most out of their professional careers and personal lives."" (Doody's, 18 November 2011)
""SUCCESS IN VETERINARY PRACTICE: MAXIMIZING CLINICAL OUTCOMES AND PERSONAL WELL-BEING provides would-be vets and libraries catering to them a fine survey of what is meant by success in veterinary practice. From setting and achieving goals in a veterinary career to improving work/life balance and changing management techniques for better outcome, this is a dual survey of professional ethics and well-being and is a 'must' for students and new veterinary office practitioners alike."" (California Bookwatch, January 2011)""The book encourages veterinary practitioners to adopt a holistic approach to achieving life-long success in veterinary practice, rather than simply focusing on the traditional balance sheet, which only takes into account profit and loss, dollars and cents. It is refreshing to read a text that links the two ideals of successful practice and personal wellbeing, rather than simply linking success to a positive balance sheet."" (Australian Veterinary Journal, November 2010)
""Due to its ability to engage the reader and encourage free thought, rather than spoon feeding pure data, a wide array of experience levels are ably catered for, which means a veteran practice partner can gain just as much from reading this volume as a relative novice."" (Veterinary Record, August 2010)
""The book is thought-provoking with many useful insights that can help practitioners."" (Veterinary Practice, June 2010)


Written by a high profile author with a mix of academic background and hands-on experience.

Identifies the skills and traits that make for good veterinary practice.

Helps the reader to develop skills that they can apply to their personal and practice development.

Far from being "starry eyed" it offers practical advice.