Successful Approaches to Fundraising and Development: New Directions for Community Colleges, Number 124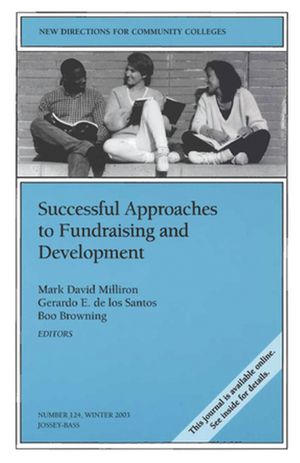 Successful Approaches to Fundraising and Development: New Directions for Community Colleges, Number 124
ISBN: 978-0-787-97283-7 February 2004 Jossey-Bass 120 Pages
Description
This issue outlines essential contextual issues in institutional advancement, provides strategies from institutions that have successfully addressed fundraising over the past ten years, and outlines major issues that must be considered in communitiy college fundraising.

Looking at the fundraising picture for higher education over the past ten years, one would have to argue that there have been major successes in garnering support from the private sector for educational institutions. From billion-dollar capital campaigns to individuals donating millions for medial research and other educational activities, record support for higher education is at hand.

Yet in the midst of this community largesses, community colleges have not fared as well. Their traditional funding streams have begun to dry up, and they are increasingly turning to fundraising as a major method to support their vital missions to provide open-access and high quality postsecondary education. Many community colleges are relative new to fundraising and are just beginning to develop tools, techniques, and strategies that make sense for them.

This is the 124th issue of the quarterly higher education journal New Directions for Community Colleges.
EDITORS' NOTES (Mark David Milliron, Gerardo E. de los Santos, Boo Browning).
1. Strategies for Leveraging a Community College Foundation (Brenda Babitz)
Community college foundations can achieve success by developing an expanded platform for philanthropic growth.
2. From the Foundations Up: Contexts for Change in Community College Advancement (David Bass)
The timing looks to be just right for community colleges to thrive under changes in the public funding of higher education.
3. It's Not the Race I Signed Up For, But It's the Race I'm In: The Role of Community College Presidents (J. William Wenrich, Betheny L. Reid)
With a shift in the fundraising landscape, college presidents and foundation CEOs are learning what a powerful team they can make.
4. The Role of Community College Trustees in Supporting the Foundation (Norm Nielsen, Wayne Newton, Cheryle W. Mitvalsky)
Four principles can help trustees support foundation efforts without neglecting other responsibilities to the college.
5. The Role of the President in Supporting the College's Foundation (E. Ann McGee)
Presidential leadership plays a pivotal role in a successful foundation.
6. Weaving the Foundation into the Culture of a Community College (Charles J. Carlsen)
Presidential leadership and involvement within the community promotes fundraising opportunities.
7. Generating New Sources of Revenue (Tony Zeiss)
In the shift from being public supported to being privately supported, community colleges are learning to become educational enterprises.
8. Grants Development in Community Colleges (Neil Herbkersman, Karla Hibbert-Jones)
A grants development office can raise significant amounts of funding when it is perceived as an integral component of the college.
9. Keeping in Touch: Alumni Development in Community Colleges (Mark J. Pastorella)
When a college understands how to cultivate, engage, and retain its alumni, it discovers the path to financial health.
10. Feels Like the Third Wave: The Rise of Fundraising in the Community College (Mark David Milliron, Gerardo E. de los Santos, Boo Browning)
Community colleges are new to the high-stakes fundraising game, but there are solid models from which they can learn important principles.
11. Sources and Information: Development and Fundraising Within Community Colleges (Edward Francis Ryan)
This chapter summarizes resources from the literature on development and fundraising.
INDEX.