Successful Grants Program Management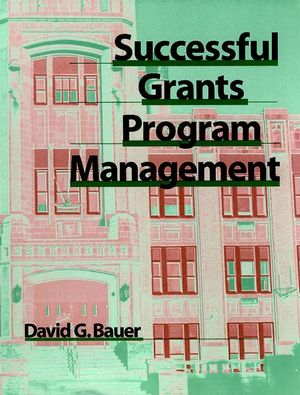 Successful Grants Program Management
ISBN: 978-0-787-95039-2
Nov 1999, Jossey-Bass
263 pages
Description
As school districts struggle with decentralized management, the need to coordinate grant proposal development has grown dramatically. This indispensable resource contains all the practical tools that districts need to manage cross-curricular proposals for all their schools. It describes the key elements of a successful grants system, explains the legal, ethical, and financial requirements of grantseeking programs, and offers worksheets and checklists to help organize every aspect of grants promotion and administration. Grants expert David Bauer shares sound advice and such important instruments as:
* A planning matrix for refining goals and objectives
* A systems analysis spreadsheet for reviewing budget and staff resources
* A step-by-step outline for developing a grants procedure manual

This comprehensive guide also shows how to provide grantseekers with computer-based research tools. Timely and practical, Successful Grants Program Management focuses on the district's role in winning corporate, federal, and foundation grants.
1. The District Administrator's Role in Resource Development.

2. Promoting a District Grantseeking Effort Based on Mission, Goals, and Objectives.

3. Developing Your School's Ability to Creat Grant-Winning Solutions.

4. The District Grants Office's Role in Increasing Knowledge of Funding.

5. Helping Your Grantseekers Search the Grants Marketplace.

6. Developing and Promoting a Proactive Grants System for Your District.

7. Moving from an Idea to a Proposed Plan.

8. Creating Winning Corporate and Foundation Proposals.

9. The District Grants Office's Role in Assisting in the Development of Federal Proposals.

10. The District Grants Office's Role in Improving Federal Grant Applications.

11. The District Grants Office's Role in Administering Federal and Private Grant Funds.

12. The District Grants Office's Role in Increasing Involvement in the Grants Process.

13. The Role of the District Grants Office in Supporting Planning and Resource Development.

14. Putting It All Together: Evaluating and Improving Your District's Grants Effort.
"I needed a source that would take the mystery out of district-level grantseeking, help avoid potential pitfalls, and provide expert advice on proven methods. This book fit my needs perfectly." --Jaylene Garrett, teacher, Apache Junction Unified Schools, Arizona