Successful Restaurant Design, 2nd Edition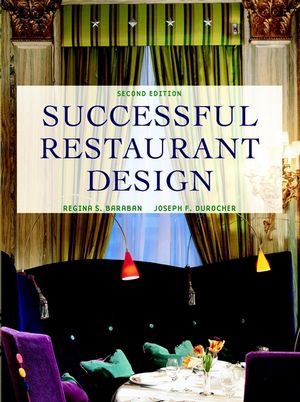 Successful Restaurant Design, 2nd Edition
ISBN: 978-0-471-43766-6
Mar 2004
320 pages
Description
Comprehensive coverage of every aspect of restaurant design

Successful Restaurant Design, Second Edition approaches the design of restaurants as a process that begins with a solid understanding of interdependent systems. From the main guest entrance to the rear loading dock, this exemplary resource examines how each of these components functions, both on its own terms and in relation to other components. It explores the different ways in which excellent design optimizes both operational efficiency and the pleasure of the dining experience.

Responding to recent market trends, this Second Edition covers the design of theme restaurants, display kitchens, cafeteria foodservice, creative dining concepts, and more. It views restaurant design through the eyes of both customers and management, and it offers helpful insights on restaurant design psychology.

Outstanding features of Successful Restaurant Design, Second Edition include:
More than 35 all-new case studies of innovative and traditional restaurant designs
Interviews with leading designers, architects, and restaurant owners on how they achieve a successful restaurant design
Expanded coverage of back-of-the-house design issues and solutions
More than 200 illustrations, including a 16-page color insert
An indispensable resource for interior designers, architects, and facility planners as well as restaurant owners and managers, Successful Restaurant Design also provides excellent professional preparation for students in these disciplines.
* Where Design Begins
* Integrative Design
* The Psychology of Design
* Design Implementation: Front to Back Through the Customer's Eyes
* Design Implementation: Back to Front Through Management's Eyes
* Mini Case Solutions
* Speak Out on Design
* Design for the New Decade
Responds to recent industry trends in restaurant design, including: theme restaurants, cruise ship restaurants, low-labor intensive chain concepts, and assisted living restaurants.
Includes more than 40 new, thorough, up-to-date case studies that examine the execution of many types of restaurant design—from the traditional to the innovative. These studies replace those included in the first edition.
"If ever there was a one-stop shopping source for restaurant planning knowledge, the book Successful Restaurant Design may be it." (Food Service Equipment Reports, April 2003)
Only design book to offer an integrative approach to restaurant design, including the kitchen as well as the dining room. This is an introduction to the process of restaurant design.
Interviews with interior designers, architects, and restaurant managers reveal the variables involved in the design process and examine the rationale behind specific design plans.
Features nearly 200 illustrations, including a 16-page color insert.