Successful Service-Learning Programs: New Models of Excellence in Higher Education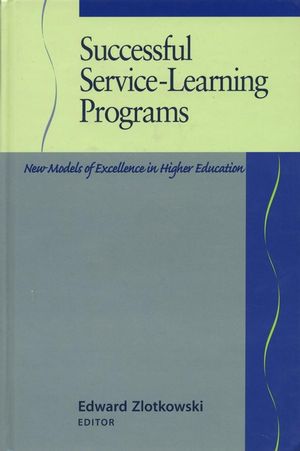 Successful Service-Learning Programs: New Models of Excellence in Higher Education
ISBN: 978-1-882-98216-5
Mar 1998, Jossey-Bass
231 pages
Description
Successful service-learning programs offer college students valuable hands-on learning experiences as they partner with their communities in cooperative service efforts. In this inspiring collection of essays written by prominent leaders of service-learning programs, each chapter provides concrete examples of how successful service-learning programs can foster lifelong student commitments to community service and learning.

By profiling ten successful service-learning programs—including those based at the University of Pennsylvania, Portland State University, Santa Clara University, and Bentley College—the contributors illustrate the power of service-learning to enrich campuses and renew communities. The profiles collectively form a picture of the common and pressing issues affecting service-learning programs across the United States. Each profile contains
A detailed history of the program's development

An overview of the basic internal operations of the program

A review of important community collaborations

An analysis of the defining dimension of the program's identity

Concluding insights on challenges faced by the program and remarks on its future
Successful Service-Learning Programs presents a compelling concept of what teaching and learning look like when colleges and universities commit to intellectual, social, and moral engagement. Through the authors' shared experiences, readers of this book will gain practical insight on ways in which to promote service-learning on their campuses.
About the Editor.
Contributors.
Foreword.
Preface.
Acknowledgments.
1. Introduction: A New Model of Excellence.
2. On the Shoulders of Giants: Building on a Tradition of Experimental Education at Augsburg College.
3. Curriculum and Community Connection: The Center for Service-Learning at Bates College.
4. Redrawing the Bottom Line: The Bentley Service-Learning Project.
5. Community College and Service-Learning: A Natural at Brevard Community College.
6. Rediscovering our Heritage: Community Service and the Historically Black University.
7. Communal Participatory Action Research & Strategic Academically Based Community Service: The Work of Penn's Center for Community Partnerships.
8. Comprehensive Design of Community Service: New Understanding, Options, and Vitality in Student Learning at Portland State University.
9. Making a Major Commitment: Public and Community Service at Providence College.
10. Santa Clara University's Eastside Project: A Pilgrimage Toward our own Humanity.
11. We Make the Road by Walking: Building Service-Learning in and out of the Curriculum at the University of Utah.