Successful Strategic Planning : New Directions for Institutional Research, Number 123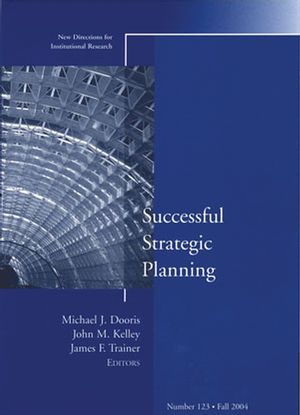 Successful Strategic Planning : New Directions for Institutional Research, Number 123
ISBN: 978-0-787-97792-4
Dec 2004, Jossey-Bass
152 pages
Description
Planning reflects the human appetite to improve our condition. In higher education, improving one's condition includes hiring better faculty, recruiting stronger students, upgrading facilities, strenthening academic programs and student services, and acquiring the resources needed to accomplish these things. The ""strategic"" part of strategic planning involves shaping the institution in ways that will ensure mission attainment by capturing and maintaining a market niche in the competition for resources, faculty, and students.

This is the 123rd issue of the Jossey-Bass higher education report New Directions for Institutional Research.
EDITORS' NOTES (Michael J. Dooris, John M. Kelley, James F. Trainer).
PART ONE: The Foundations of Strategic Planning.
1. Strategic Planning in Higher Education (Michael J. Dooris, John M. Kelley, James F. Trainer)
The authors present an introductory foundation for the development and evolution of strategic planning in general, and higher education in particular.
2. Accreditation as a Catalyst for Institutional Effectiveness (Ann H. Dodd)
This chapter describes the accreditation landscape in higher education and identifies the role of institutional research in the planning, assessment, and improvement cycle. The author uses two models of institutional effectiveness as a foundation for describing the accreditation cycles for the Middle States Association and the Baldrige-inspired AQIP process used by the North Central Association.
3. Strategic Planning via Baldrige: Lessons Learned (John Jasinski)
The Baldrige Criteria support a systems perspective and a focus on results. The chapter highlights eleven lessons learned by all types of organizations that have participated in the Baldrige process.
4. Applying Ad Hoc Institutional Research Findings to College Strategic Planning (Craig A. Clagett)
This chapter gives three examples of institutional research undertaken for reasons other than strategic planning that in the end had a profound influence on planning efforts. The cases suggest that it is indeed possible to create an institutional research legacy.
5. Linking Planning, Quality Improvement, and Institutional Research (Daniel Seymour, John M. Kelley, John Jasinski)
The authors argue that more and more institutions are striving to make evidenced-based decisions. Planning, quality improvement, and institutional research are being linked within a systems-thinking context.
PART TWO: Examples from the Field.
6. Linking Planning, Quality Improvement, and IR: Los Angeles City College (Daniel Seymour)
This chapter demonstrates how planning, improvement initiatives, and institutional research can all be successfully linked within a plan-actcheck model.
7. Strategic Planning and Budgeting to Achieve Core Missions (Heather J. Haberaecker)
This chapter shows how a new strategic planning and budgeting model can help a university and professional school achieve its strategic vision.
8. Integrated Planning for Enrollment, Facilities, Budget, and Staffing: Penn State University (Louise E. Sandmeyer, Michael J. Dooris, Robert W. Barlock)
This chapter describes the integrated planning and improvement process for eighteen of Penn State's campuses, and it also highlights lessons learned through this experience.
9. A Team Approach to Goal Attainment: Villanova University (John M. Kelley, James F. Trainer)
The authors describe two successful initiatives at Villanova University, where teams were employed to develop and implement goals and to monitor goal attainment.
10. Future-Search Conferences at Cornell University (Chester C. Warzynski)
This case study describes how Cornell employed a future-search conference to structure a conversation with a multidisciplinary group of faculty, build collective understanding of the challenges they face, and respond to an accreditation review.
11. Strategic Planning at Carroll Community College (Craig A. Clagett)
The author presents a case study of strategic planning at Carroll Community College, highlighting how planning standards, an advisory committee, continuous plan revision, budgeting, and institutional assessment measures work together in the process.
12. Moving the Strategic Plan off the Shelf and into Action at the University of Wisconsin-Madison (Kathleen A. Paris)
The focus of this chapter is simply taking the plan off the shelf and implementing it. The author also demonstrates a purposeful link between planning and the institution's regional reaccreditation process.
13. Models and Tools for Strategic Planning (James F. Trainer)
This final chapter integrates the entire volume by examining several strategic planning models and their intersection with other institutional research activities. The chapter also offers an annotated list of "top-ten" planning tools, as well as key strategic planning references.
INDEX.