Successful Supervision in Health Care Practice: Promoting Professional Development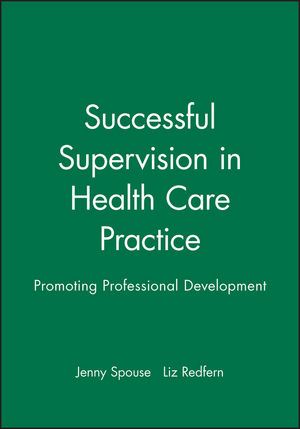 Successful Supervision in Health Care Practice: Promoting Professional Development
ISBN: 978-0-632-05159-5 February 2000 Wiley-Blackwell 200 Pages
Description
Supervision has become a key strategy in promoting an effective and efficient health service. Yet often it is poorly understood by practitioners or lacks support in service settings.
Successful Supervision in Health Care Practice: Promoting Professional Development provides answers about how to implement supervision successfully and how to survive as a supervisor. Its also provides clear guidelines on the relationship of supervision to clinical governance. There is a strong theoretical and research base throughout the book that offers an approach to learning in practice. This book raises interesting questions about the nature and purpose of supervision for practitioners. The reflective accounts in this text are written by novice and experienced supervisors from a variety of health and social care professions. They provide hope and encouragement to practitioners, while offering scenarios for discussion and role-play in classroom settings.

Educators will find this book contains a wealth of ideas and valuable material for designing courses for supervisors. Practitioners who are receiving supervision, irrespective of the stage in their career, will find the text and case studies essential reading. Managers will learn about current thinking on supervision that will enable effective policies to be designed and successfully implemented.
Table of contents
Contributors.
Preface.
1. Creating a Quality Service (Jenny Spouse and Liz Redfern).
2. Clinical Supervision - Professional Development or Management Control (Nigel Northcott).
3. Personal Accounts of Supervision.
4. Case Studies of Supervision During Organisational Change.
5. Supervision of Clinical Practice: The Nature of Professional Development (Jenny Spouse).
6. Supervision in Professional Practice: Implications for Educationalists and Practitioners (Jenny Spouse).
7. Supervision of Practice and the New National Health Service Quality Agenda (Liz Redfern with a contribution from David Robson).
Index.
Reviews
"...the text is a rich and mature resource into what contributes to supervision in health care...this book should enable health professionals to revisit their own superivision agendas, and prepare to become more accountable in line with the philosophy enshrined in clinical governance."
Journal of Advanced Nursing
Features
* Outlines strategies to improve health care provision through supervision
* Provides a research based model for effective supervision and how to implement it
* Details guidelines on preparing practitioners for their role as supervisors
* Emphasises the importance of the continuing professional development of students
* Equally applicable across a variety of health and social care professions
* Includes reflective case studies for discussion and role-play
* Companion text to "Mentoring, preceptorship and clinical supervision"