Super Sectors: How to Outsmart the Market Using Sector Rotation and ETFs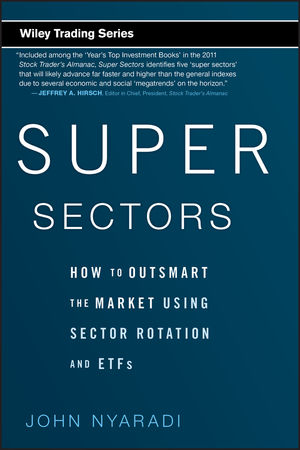 Super Sectors: How to Outsmart the Market Using Sector Rotation and ETFs
ISBN: 978-0-470-59250-2 October 2010 288 Pages
Description
Smart financial strategies that can secure your financial future




There are more than 600 exchange traded funds on the market today, and new ones are opening every day. Total worldwide invested assets in ETFs now tops $500 billion. Written in a straightforward and accessible style, Super Sectors outlines a specialized trading system that utilizes standard and leveraged exchange traded funds in an easy-to-follow plan, so that you can identify and invest in the hottest sectors in the world.
In this book, author John Nyaradi skillfully shows you how to use ETFs to take advantage of businesses and sectors that are profiting, while also minimizing risk by getting out of the same areas before they start to decline. Along the way, Nyaradi reveals how to best analyze different sectors, such as technology, utilities, industrial, energy, services, and finance, and then discusses which ETFs can help you profit from the opportunities these sectors present. The book:
•    Outlines an active investment management strategy that will allow you to generate steady success in any market
•    Details how different types of businesses profit and suffer during different business cycles
•    Explores how sectors rotation strategies and exchange traded funds can put you in a better position to excel financially
•    Includes interviews with key experts
The "buy-and-hold" strategy of yesterday won't work in today's investment environment. Nyaradi identifies the strongest potential sectors in the future. Find out what will work with Super Sectors as your guide.
Preface xiii
Acknowledgments xvii
PART I Five Wall Street Fairy Tales and Why the Conventional Wisdom is Flawed 1
CHAPTER 1 The Bear Facts about Bear Markets 3
The Bear Facts: Another Bear is Out There Waiting to Maul Your Portfolio 3
Conclusion 7
CHAPTER 2 The Fairy Tale of Buy and Hold 9
Ten Years of Negative Returns 9
Impact on Retirement 11
The World is Changing 18
Conclusion 18
CHAPTER 3 Four More Wall Street Fairy Tales: Conventional Wisdom That Could Cost You Money 21
Is Asset Allocation the Answer? 21
The Fairy Tales Revealed 23
Conclusion 24
PART II Why Exchange Traded Funds? 27
CHAPTER 4 History and Growth of Exchange Traded Funds 29
From Zero to 836 in 19 Short Years 29
Conclusion 32
CHAPTER 5 Types of Exchange Traded Funds 33
Standard Exchange Traded Funds 34
Index Funds 34
Market Cap and Style Funds 35
Bond Funds 35
Sector Exchange Traded Funds 35
Global Regions and Country Specific Exchange Traded Funds 36
Inverse Exchange Traded Funds 37
Leveraged Exchange Traded Funds 38
Actively Managed Exchange Traded Funds 41
Currency Exchange Traded Funds and Exchange Traded
Notes 42
Conclusion 43
PART III Sector Rotation: What It Is and Why It Works 45
CHAPTER 6 Sector Rotation—The Traditional View 47
There's Always a Bull Market Somewhere 47
Nine Basic Sectors 49
Will This Time be Different? 50
The Business Cycle Has Not Been Repealed 51
Why Use Sector Rotation? 52
Conclusion 52
CHAPTER 7 The New Science of Sector Rotation 55
It's a Brave New World 55
Are There Only Nine Sectors? 56
The Velocity of Money and the Incredible Disappearing
Investor 56
Conclusion 65
PART IV Trading Systems Designed to Outperform the Indexes 67
Your Personality 67
Your Lifestyle 68
Your Goals 68
CHAPTER 8 Almost Like Buy and Hold 69
But It's Not That Easy 71
Cut Your Losses and Let Your Winners Run 72
"Almost Like Buy and Hold" Trading Rules 73
Conclusion 74
CHAPTER 9 The Simple Trading System 75
Conclusion 82
CHAPTER 10 The Golden Crossover Trading System 85
Conclusion 90
PART V The Sector Scoring System: Trading Concepts, Challenges and Conundrums 91
CHAPTER 11 The Five Signals for Entering a Trade 93
Signal No. 1: Point and Figure Charts Buy Signals 93
Signal No. 2: Point and Figure Charts: Trend and Bullish
Price Objective 98
Signal No. 3: Moving Average Convergence Divergence (MACD) 101
Signal No. 4: Relative Strength Index (RSI) 107
Signal No. 5: Relative Strength 108
Conclusion 110
CHAPTER 12 Scoring Your Trades 113
Selecting What You Want to Trade 113
Scoring Your Trades: The Heart of the System 114
Scoring the Indicators 123
Conclusion 130
CHAPTER 13 Getting Out is Harder Than Getting In 131
Selecting What You Want to Trade: The Other Side of the Coin 131
Getting Out of a Trade: How, When, Where 132
Risk Management and Position Size 144
Exiting a Trade or "What Now?" 146
Signs of Weakness 147
Conclusion 150
CHAPTER 14 The Psychology of Trading 153
The Biggest Single Risk to Your Trading and Investing Success is You 153
Begin at the Beginning 154
Greed, Fear, and the Herd 154
Three Secrets to Trading Success 156
Trading and the Art of War 160
The Five Essentials for Victory 161
Trading With the Buddha 162
What Happens When Your System Stops Working 163
How to Manage Drawdowns 164
Conclusion 165
PART VI Super Sectors: Five ''Super Sectors'' That Could Change Your Life 167
CHAPTER 15 Super Sector No. 1: The Rise of Asia 169
A Closer Look at China 169
The Story Doesn't End with China 171
How Can You Participate? 172
Conclusion 173
CHAPTER 16 Super Sector No. 2: Energy 175
The Bad News about Supply 175
The Bad News about Demand 176
Economic, Political, and Social Impacts 177
Possible Solutions 177
Possible Outcomes 178
How Can You Participate? 179
Conclusion 180
CHAPTER 17 Super Sector No. 3: Health Care 181
The Aging Baby Boomers 181
Baby Boomers and the Cost of Health Care 182
Growth in National Health Care Expenditures 182
Possible Solutions and Outcomes 183
The Ever-Growing Medical Monster 183
How Can You Participate? 184
Conclusion 184
CHAPTER 18 Super Sector No. 4: Technology 187
A Connected World 187
Highways in the Sky 189
Emerging Technologies 190
How Can You Participate? 190
Conclusion 191
CHAPTER 19 Super Sector No. 5: Financials 193
The Financial Sector 193
Warren Buffettology 195
The Dollar and Global Currency Markets 196
Interest Rates 197
Precious Metals 197
How Can You Participate? 198
Conclusion 198
CHAPTER 20 Ask the Experts: Insights and Advice from Today's Top Investors, Traders and Managers 201
Larry Connors 201
Dr. Marc Faber 205
Keith Fitz-Gerald 207
Todd Harrison 211
Gene Inger 214
Carl Larry 216
Timothy Lutts 217
Tom Lydon 220
John Mauldin 223
Lawrence G. McMillan 224
Paul Merriman 228
Robert Prechter 230
Jim Rogers 233
Matthew Simmons 234
Sam Stovall 236
Cliff Wachtel 238
Gabriel Wisdom and Michael Moore 241
Conclusion 245
APPENDIX ETF Resources 247
Web Sites 247
Exchange Traded Funds Providers 247
Books 248
Notes 251
About the Author 253
Index 255
"If you had to choose just one investment book to read this year, this could be it. … Included in "Year's Top Investment Books" in the 2011 Stock Trader's Almanac,
Super Sectors
provides useful background on ETFs, the pros/cons of each sector, basic technical tools, trading strategies, and psychology - really a masterpiece of overview of sound investing and trading with plenty to learn and review for those on all levels of expertise.
—Cliff Wachtel, FXinsights.com, November 2010
"If you have considered investing by sectors using ETFs, then Super Sectors is the book for you."
—Stockerblog.com, October 2010
""This book provides a highly accessible and pragmatic approach to the subject of investment vehicles. For the relative newcomer to active investing, it offers several nuggets of useful information. For veteran system developers interested in further honing their trading acumen, it serves as a refresher of key concepts.""
—Bruce C. Greig, Financial Analysts Journal, January 2011