Superannuation and Retirement Income Planning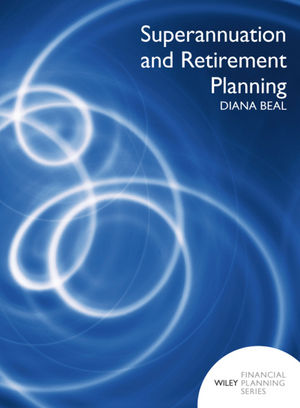 Superannuation and Retirement Income Planning
ISBN: 978-0-470-81595-3
Jan 2008
216 pages
Product not available for purchase
Description
Superannuation and Retirement Planning is the first textbook available in the new Wiley Financial Planning Series. Written for students studying superannuation for the first time as part of a financial planning program this textbook aligns with the specialist knowledge required under PS146 presenting a succinct and current analysis of the superannuation system, regulatory framework and various industry stakeholders.
Written as a textbook, each chapter outlines and analyses core legislative requirements for superannuation and retirement planning in Australia. The text also integrates illustrative examples to provide a practical perspective on the characteristics of the superannuation industry, superannuation fund management and retirement income planning.
FEATURES
Reflects the specialist ASIC knowledge requirements as outlined in PS146.
Outlines the major reforms and policy developments associated with the superannuation industry.
In-depth coverage of topics, such as;
Superannuation service providers and overview of the industry
Self managed superannuation funds
Fund design and investment strategies
Taxation issues
Retirement income planning
Compliance and disclosure requirements.
Illustrative examples simulate typical superannuation industry scenarios and decision criteria providing step-by-step analysis of superannuation fund options and investment strategies.
Focused and easy-to-read writing style will ensure students will understand the complexities of the superannuation industry, contribution arrangements and retirement income planning.
Aligns to the specialist knowledge requirements documented under PS146.
ABOUT THE AUTHOR
Diana Beal recently retired as Associate Professor in Finance at the University of Southern Queensland in 2006. Diana\'s initial training was as an economist and she worked for the government, both federal and state, for eight years. She also has a commerce degree, and can therefore read between the lines of a balance sheet. She has always had an interest in both business and personal finance.
With an interest in most financial markets, Diana has traded property, shares, collectables, forex and options. In addition, she ran her own business for 15 years before joining USQ. While at USQ, Diana has taught courses in business finance, personal finance, applied microeconomics, macroeconomics, financial markets and financial institutions management.
Chapter 1. Introduction
Past changes and policy shifts
Superannuation industry structure
Service roles
Superannuation savings
Qualifying conditions for compliance
Chapter 2. The Regulatory Environment - Superannuation Funds
Principal prudential regulators and superannuation
Trustee rules
Registrable superannuation entity (RSE) provisions
Fundamental principles and rules
Chapter 3. The Regulatory Environment - Consumer Protection
Consumer protection background
ASIC\'s role and legislation
Key building blocks of the FSRA
Need for Australian Financial Services Licences (AFSL)
Financial services and product disclosure measures
Chapter 4. Other Important Legislation
Rationale for and management of choice of fund
Complaints resolution
Role of retirement savings accounts (RSAs)
The legislative provisions against market misconduct
Chapter 5. Taxation of Superannuation Funds
Legislation underlying superannuation fund taxation
Assessment of the taxation liability
No- TFN (tax file number) contributions income
Assessable income and deductions
Superannuation funds and RSA providers
CGT provisions and superannuation entities
GST and superannuation entities
Effects of taxation
Chapter 6. Contributions
The superannuation guarantee scheme
Provisions for employer and concessional contributions
Provisions for personal deductible contributions
Provisions for non-concessional contributions
Assessment and payment of excess contributions tax
Provisions for spouse contributions
Government co-contribution scheme
Chapter 7. Benefits
Taxation arrangements and complying superannuation plans
Taxation arrangements and non-complying superannuation plans
Tax treatments of rollovers
Taxation arrangements for employment termination payments
Taxation treatment of other termination payments
Post-1 July 2007 pension standards
Chapter 8. Self-Managed Superannuation Funds (SMSFs)
What is a self-managed superannuation fund (SMSF)?
Growth of SMSFs
Legislation governing SMSFs
Establishing an SMSF
Requirements for management of operations
Chief administrative duties of trustees
Chapter 9. Superannuation and Marriage
Spouse contributions
Risk management and family breakdown
Superannuation agreements and payment splits
Role of the courts
\'Buying-out\' option for non-member spouses
Chapter 10. Planning Retirement Incomes
Issues affecting annual incomes in retirement
Factors affecting lump sums at retirement
Retirement lump sums and annual incomes
Strategies to increase retirement incomes
Chapter 11. Income Safety Nets - Social Security
Financial support for senior Australians
Age pension eligibility
Means testing
Optimising asset mixes in retirement