Superfoods For Dummies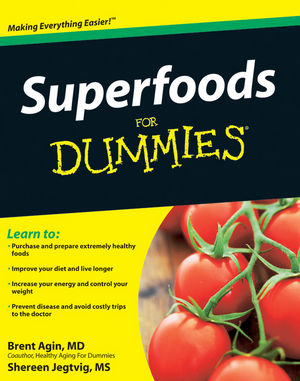 Superfoods For Dummies
ISBN: 978-0-470-44539-6
May 2009
360 pages
Product not available for purchase
Description
Transform your diet and reap the extraordinary benefits of superfoods
Want to eat healthier, lose weight, and fight off disease? You can do it with superfoods! This friendly guide explains everything you need to know — why you need superfoods, the science behind them, and how to prepare and enjoy them. From bananas and carrots to oatmeal and salmon, you'll gain a healthy attitude toward eating right!
Get the skinny on superfoods — know the basics of a balanced, nutritional diet, and why superfoods are so powerful

Take a closer look — examine the unique properties of superfoods and the best ways to store and prepare them

Explore exotic flavors — discover Asia's goji berries, Mexico's chia, Indonesia's mangosteen, and other unusual superfoods

Launch your superfoods lifestyle — plan healthy meals you and your family will enjoy
Open the book and find:
A nuts-and-bolts breakdown of each superfood

Ways to incorporate superfoods into your everyday diet

Tips for saving money on superfoods

The healthiest cooking methods

More than 50 easy-to-prepare, tasty recipes — from breakfast to dessert

The top dietary supplements

How to grow your own superfoods garden
Introduction.
Part I: Getting the Skinny on Superfoods.
Chapter 1: Nourishing Your Body with Superfoods.
Chapter 2: Appreciating the Ageless Wonders of Superfoods.
Chapter 3: Supplementing Superfoods.
Part II: From Apples to Wheat Grass: A Look at the Superfoods.
Chapter 4: Getting Fruitful and Reaping the Rewards.
Chapter 5: Vegging Out in a Good Way.
Chapter 6: Gathering Nuts and Seeds.
Chapter 7: Angling for Super Seafood.
Chapter 8: Going with the Grains and Legumes.
Chapter 9: Spicing It Up with Flavor (and Flavonoids).
Chapter 10: Exploring Exotic Superfoods.
Part III: Launching Your Superfoods Lifestyle.
Chapter 11: Bringing Superfoods into Your Life.
Chapter 12: Getting Your Family Onboard.
Chapter 13: Shopping for Superfoods.
Chapter 14: Growing Your Own Superfoods.
Part IV: Putting Superfoods on Your Table.
Chapter 15: Preparing and Preserving Superfoods without Sacrifi cing Nutrition.
Chapter 16: Starting the Day Right: Superfood Breakfast Recipes.
Chapter 17: Gathering for the Family Meal: Superfood Main Dish Recipes.
Chapter 18: Filling Your Plate: Super Salad and Side Dish Recipes.
Chapter 19: Rounding Out the Menu: Super Snacks, Appetizers, and Desserts.
Part V: The Part of Tens.
Chapter 20: Ten Super-Duper Superfoods.
Chapter 21: Ten Sensational Dietary Supplements.
Chapter 22: Ten (Plus) Ways to Make Sure You Get Your Daily Superfoods.
Chapter 23: Ten (Plus) Almost-Superfoods that Can Help Round Out Your Diet.
Index.