Supernatural and Philosophy: Metaphysics and Monsters ... for Idjits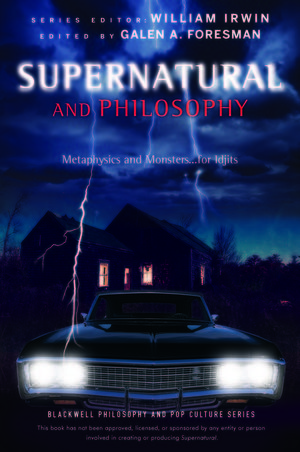 Supernatural and Philosophy: Metaphysics and Monsters ... for Idjits
ISBN: 978-1-118-61599-7 August 2013 Wiley-Blackwell 216 Pages
Description
No doubt the years hunting monsters and saving the universe have had their toll on the Winchesters, but their toughest and most gruesome battles are contained in this book. Think Lucifer was diabolically clever? Think again. No son is more wayward than the one who squanders his intellect and academic career pursuing questions as poignant as "Half-awesome? That's full-on good, right?" Gathered here for the first time since the formation of Purgatory, a collection of research so arcane and horrific that it would make even the late, great Bobby Singer blush.

Supernatural and Philosophy tackles all the big ideas in the long-running hit show Supernatural, covering thorny issues in a fun and accessible way. Even those unfamiliar with the show will find fascinating insights into Heaven, Hell, Angels, Demons, God, and Lucifer.
A unique collection of insights into the many philosophical, religious, and paranormal topics in the hit TV show, Supernatural
Accessible treatment of thorny issues for a general audience
Written by philosophical fans of the show, for philosophical fans of the show
Those unfamiliar with the show will still find fascinating insights into Heaven, Hell, Angels, Demons, God, Lucifer, and Good and Evil
Contributors tackle issues ranging from the biological classifications of monsters, to the epistemological problems of ghost hunting
Acknowledgments vii
Introduction: Codename: GhostPhacers 1
Part One Of Monsters and Morals 5
1 Are Monsters Members of the Moral Community? 7
Nathan Stout
2 Aristotle's Metaphysics of Monsters and Why We Love Supernatural 16
Galen A. Foresman and Francis Tobienne, Jr.
3 Hunters, Warriors, Monsters 26
Shannon B. Ford
4 Team Free Will: Something Worth Fighting For 37
Devon Fitzgerald Ralston and Carey F. Applegate
Part Two Life, Liberty, and the Apocalypse 47
5 What the Hell Is Going On? 49
Galen A. Foresman
6 Try Hell, It's a Democracy and the Weather Is Warm 62
Dena Hurst
7 Hunting the American Dream: Why Marx Would Think It's a Terrible Life 74
Jillian L. Canode
8 Mothers, Lovers, and Other Monsters: The Women of Supernatural 83
Patricia Brace
9 Night of the Living Dead Demons and a Life Worth Living 95
John Edgar Browning
Part Three Evil by Design 109
10 Dean Winchester and the Supernatural Problem of Evil 111
Daniel Haas
11 Angels and Atheists 125
Fredrick Curry
12 Oh God, You Devil 139
Danilo Chaib
Part Four It's Supernatural 151
13 Naturally Supernatural 153
James Blackmon with Galen A. Foresman
14 Masculinity and Supernatural Love 169
Stacey Goguen
15 Naturalizing Supernatural 179
Joseph L. Graves, Jr.
Contributors: Bona Fide, Card Carrying Wisdom Lovers and GhostPhacers 189
Index 195
"Saying that, what is covered should be enough here for the 'Supernatural' fan to think about. Don't get spooked."  (SFCrowsnest.org.uk, 1 December 2013)
"All in all, through reading this book, I realized philosophical and religious examinations are a lot more fun when they're done side by side with the adventures of Sam and Dean Winchester rather than traditional sources.  The correlations make for a very good read. It will certainly change the way we fans see episodes both past and future.  Thanks to pop culture, philosophy just isn't for scholars anymore."  (The Winchester Family Business, 22 October 2013)