Supervision in the Hospitality Industry: Applied Human Resources, 5th Edition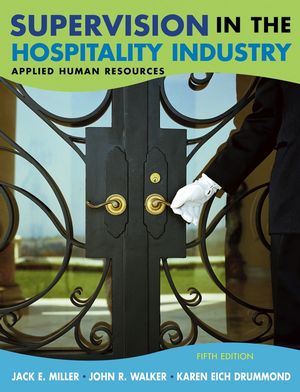 Supervision in the Hospitality Industry: Applied Human Resources, 5th Edition
ISBN: 978-0-471-65748-4
Mar 2006
544 pages
Product not available for purchase
Description
Supervision in the Hospitality Industry provides comprehensive coverage of the principles, theories, human relations techniques, and decision-making skills that are required to manage a workforce to profitable results. Along with updated material in each chapter—including new material on diversity initiatives, recruitment, and retention, as well as updated profiles of individuals and companies—and a variety of training activities for real-world simulation, this Fifth Edition is the complete guide to managing in the hospitality industry.

It takes a lot of savvy to manage a thriving hospitality business. Managers must satisfy obligations to owners, customers, and employees, while maintaining a positive work climate, developing job expectations, disciplining marginal employees, and addressing workplace diversity. Methods for achieving these goals as well as for communicating effectively, planning, organizing, and maintaining a management point of view are reinforced through quizzes, exercises, self-assessments, simulations, case studies, role play, and journal writing.
Preface.
Part 1: Supervision and HR Management and Leadership.
Chapter 1: The Supervisor as Manager.
Chapter 2: The Supervisor as Leader.
Part 2: The Workplace.
Chapter 3: Equal Opportunity in the Workplace.
Chapter 4: Creating a Positive Work Climate.
Chapter 5: Developing Performance Standards.
Chapter 6: Recruiting and Selecting Applicants.
Part 3: Employee Development.
Chapter 7: Teamwork and Teambuilding.
Chapter 8: Employee Training and Development.
Chapter 9: Evaluating Performance.
Chapter 10: Discipline and Employee Assistance Programs.
Part 4: Supervising Human Resources.
Chapter 11: Planning and Organizing.
Chapter 12: Communicating Effectively.
Chapter 13: Delegating.
Chapter 14: Decision Making and Control.
Glossary.
Index.
Updated coverage of diversity initiatives, recruitment and retention
Industry examples and sidebars have been added throughout the text
Includes a new section on substance abuse
New artwork and photographs throughout
Updated profiles of individuals and companies
| | |
| --- | --- |
| PowerPoint Presentation for Chapter 1 | Download |
| PowerPoint Presentation for Chapter 2 | Download |
| PowerPoint Presentation for Chapter 3 | Download |
| PowerPoint Presentation for Chapter 4 | Download |
| PowerPoint Presentation for Chapter 5 | Download |
| PowerPoint Presentation for Chapter 6 | Download |
| PowerPoint Presentation for Chapter 7 | Download |
| PowerPoint Presentation for Chapter 8 | Download |
| PowerPoint Presentation for Chapter 9 | Download |
| PowerPoint Presentation for Chapter 10 | Download |
| PowerPoint Presentation for Chapter 11 | Download |
| PowerPoint Presentation for Chapter 12 | Download |
| PowerPoint Presentation for Chapter 13 | Download |
| PowerPoint Presentation for Chapter 14 | Download |
Provides an understanding of the supervisor's role and responsibilities, knowledge about the different elements of the supervisor's job, and an awareness and appreciation of the skills, attitudes, and abilities needed to manage people successfully

Discussses the concepts, theories, and principles behind good supervisory practice

Photographs, diagrams, flow charts, and sample materials provide focal points for discussion

Profiles allow professionals in the industry to give their perspective on human resource and supervisory issues

Includes numerous pedagogical tools throughout, such as chapter overviews, chapter openings, chapter objectives, key points, key terms, and review questions

"Check Your Knowledge" questions are spaced throughout the chapters for students to review important topics and concepts

Contains quizzes, exercises, self-assessments, simulations, case studies, role play, and journal writing exercises