Supplemental Instruction: New Visions for Empowering Student Learning: New Directions for Teaching and Learning, Number 106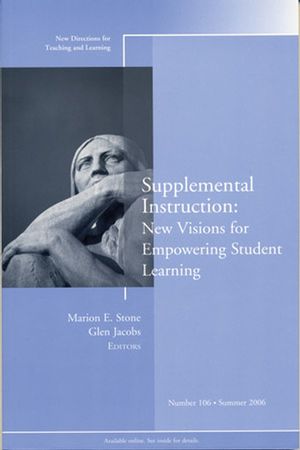 Supplemental Instruction: New Visions for Empowering Student Learning: New Directions for Teaching and Learning, Number 106
ISBN: 978-0-787-98680-3
Jul 2006, Jossey-Bass
120 pages
Description
This new volume of New Directions for Teaching and Learning was developed in order to examine the wealth of knowledge that has been uncovered over the last three decades, since the inception of Supplemental Instruction (SI), and to use this understanding to contemplate how SI can best serve the changing needs of today's students.

Over a decade has passed since the last time the International Center for Supplemental Instruction teamed with Jossey-Bass to publish an issue of New Directions for Teaching and Learning on SI. Though much has changed in the world, SI appears to have adapted quite well to the changing needs of students and to the continually evolving state of higher education.

In recent years, SI has experienced an unprecedented expansion into uncharted horizons. What are the next paths for SI? Where is SI heading? Discover for yourself in this latest volume of New Directions for Teaching and Learning.

Supplemental Instruction: New Visions for Empowering Student Learning is the 106th installment of the Jossey-Bass journal, New Directions for Teaching and Learning. Click Here to learn about how to subscribe to this journal.
EDITORS' NOTES (
Marion E. Stone, Glen Jacobs
)>
1. The Impact of Supplemental Instruction on Teaching Students How to Learn (Saundra Yancy McGuire)
This chapter describes the characteristics of today's student population, looks at the learning theories on which the Supplemental Instruction model is based, and provides an overview of the benefits of and challenges to implementing SI in the twenty-first century.
2. The Basic SI Model (Maureen Hurley, Glen Jacobs, Melinda Gilbert)
This general overview of the SI model looks at the SI philosophy, essential program components, program structures, key roles, outcomes, and evaluation. The chapter also reviews what we have learned about the importance of planning SI sessions, providing ongoing training for leaders, conducting regular SI program assessments, and implementing effective and essential learning strategies.
3. Supplemental Instruction at a Community College: The Four Pillars (Joyce Ship Zaritsky, Andi Toce)
This chapter describes how Supplemental Instruction has, since 1993, been successful in improving grades and reducing failure in high-risk courses at LaGuardia Community College, an urban institution.
4. A Credit-Bearing Course for Training SI Leaders (Sally A. Lipsky)
This chapter describes key components in the design of a training course for SI leaders. It looks at course topics and accompanying theoretical frameworks, and explains how content is delivered.
5. Video-based Supplemental Instruction: Serving Underprepared Students (Maureen Hurley, Kay L. Patterson, F. Kim Wilcox)
This chapter discusses Video-based Supplemental Instruction (VSI), a variation of the SI model that presents options for students who, barring a serious intervention, will not be successful in college.
6. Benefits to Supplemental Instruction Leaders (M. Lisa Stout, Amelia J. McDaniel)
SI leaders attain a great many benefits as a result of their participation in SI leadership activities. This chapter examines what SI leaders can expect to gain.
7. How Supplemental Instruction Benefits Faculty, Administration, and Institutions (Sandra Zerger, Cathy Clark-Unite, Liesl Smith)
SI affects faculty and staff development through informal discussions, workshops, trainings, and coursework and provides institutional benefits. The program at the Nelson Mandela Metropolitan University, where SI has acted as more than a student academic development program by addressing faculty and curriculum development, is a case in point.
8. New Directions for Supplemental Instruction (Sonny L. Painter, Rebecca Bailey, Melinda Gilbert, John Prior)
SI can expand past the boundaries of on-campus review sessions. This chapter examines how SI can be implemented in university teachinglearning centers and in thematically based learning communities and shows how SI is meeting the needs of high school students. Finally, it explores an avant-garde program that has piloted the implementation of virtual SI sessions.
9. TeamSI: A Resource for Integrating and Improving Learning (Carin Muhr, Deanna C. Martin)
A permutation of the original program, TeamSI represents an ambitious attempt to improve both students' deep understanding of their professional discipline and their self-development as more mature learners and leaders.
10. The New Vision for SI: Where Are We Heading? (Glen Jacobs, Marion E. Stone, M. Lisa Stout)
Now firmly established as a proven retention program, SI can move beyond the university and assist communication and education anywhere: in industry, in cyberspace, or in the villages of the most remote corners of the world.
INDEX.