Supporting Strategy: Frameworks, Methods and Models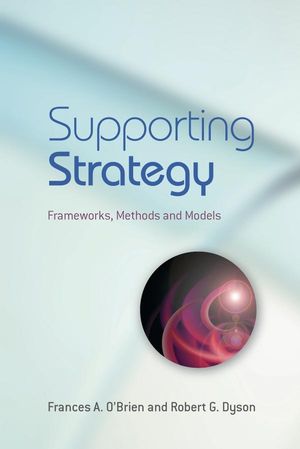 Supporting Strategy: Frameworks, Methods and Models
ISBN: 978-0-470-05717-9 May 2007 426 Pages
Description
Supporting Strategy develops the concept of the strategic development process. The book begins by describing a balanced process for strategy development, spanning direction setting, strategy creation, rehearsal, evaluation and choice, leading to a continuous process of adopting strategic initiatives. It then goes on to present a practical collection of frameworks, methods and models which both individually and in combination can be used to support strategy. The collection includes: drama theory, visioning methods, problem structuring methods, resource based view of strategy, SWOT / TOWS analysis, system dynamics, agent based modelling, scenario planning, decision and risk analysis, financial evaluation, real options, robustness analysis and performance measurement.

This is a contributed work with original content written fro the book from leading academics in the field, including Maureen Meadows, Robert Berry, Jim Bryant, Adrian Caldart, Alberto Franco, Giles Hindle, Nigel Howard, Martin Kunc, Abhijit Mandal, Gilberto Montibeller, John Morecroft, Martin Murtland, Fernando Oliveira, and Efstathios Tapinos.
Preface ix
About the Contributors xi
Part I Introduction 1
Chapter 1 The Strategic Development Process 3
Robert G. Dyson, Jim Bryant, John Morecroft and Frances O'Brien
Part II Setting Direction 25
Chapter 2 Visioning: A Process for Strategic Development 27
Maureen Meadows and Frances O'Brien
Chapter 3 Achieving Strategy Coherence 55
Jim Bryant and Nigel Howard
Chapter 4 Problem Structuring and the Building and Negotiation of Strategic Agendas 87
Alberto Franco, Jim Bryant and Giles Hindle
Part III Creating Strategic Initiatives 115
Chapter 5 Strategy Creation – The Resource-Based View 117
Abhijit Mandal
Chapter 6 Methods for Creating Strategic Initiatives 137
Robert G. Dyson
Part IV Rehearsing Strategy 155
Chapter 7 System Dynamics Modelling for Strategic Development 157
Martin Kunc and John Morecroft
Chapter 8 The Impact of Organisational Complexity in the Strategy Development Process 191
Adrián A. Caldart and Fernando S. Oliveira
Chapter 9 Creating and Using Scenarios – Exploring Alternative Possible Futures and their Impact on Strategic Decisions 211
Frances O'Brien, Maureen Meadows and Martin Murtland
Part V Evaluating Performance 249
Chapter 10 Decision and Risk Analysis for the Evaluation of Strategic Options 251
Gilberto Montibeller and Alberto Franco
Chapter 11 Performance Measurement 285
Efstathios Tapinos and Robert G. Dyson
Chapter 12 A Financial Perspective on Strategic Investments 313
Robert H. Berry
Chapter 13 Flexibility, Robustness and Real Options 343
Robert G. Dyson and Fernando S. Oliveira
Part VI Combining Approaches to Support Strategic Development 367
Chapter 14 Gone Fishing: A Case Study 369
Jim Bryant, Maureen Meadows, John Morecroft and Frances O'Brien
Author Index 395
Subject Index 401
Spans literature from the fields of  Strategy and Management Science / Operational Research.
Brings together a novel collection of strategy support frameworks methods and models.
Provides a balance between strategy formulation and strategy evaluation.
Highlights the role and importance of strategy rehearsal.
Each chapter will focus on a particular method and provides an introduction to the method and its role in supporting strategic development, an example of how to execute the method, a case study of the method in practice, and a review of past and future developments.