Supporting Student Affairs Professionals: New Directions for Community Colleges, Number 166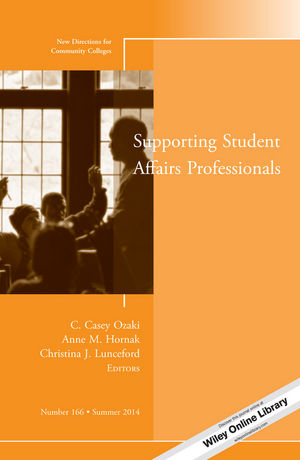 Supporting Student Affairs Professionals: New Directions for Community Colleges, Number 166
ISBN: 978-1-118-93032-8 June 2014 Jossey-Bass 96 Pages
Description
Student affairs and services play a critical role in student learning and success, as well as the level at which community colleges meet institutional outcomes. The evolution of student affairs as a field and recognition of its role in student experiences underscore its importance in the effort to provide quality
education to college students.
This volume provides a framework for excellence in student affairs work at community colleges, including assessing quality and outcomes for program development and accreditation. The authors explore:
Excellence in preparing and developing professionals at multiple stages in their careers
Creating and using professional standards and competencies
Understanding the role of accreditation in professional practice.
The issue also includes a discussion of implications for community college student affairs preparation and practice.
This is the 166th volume of this Jossey-Bass quarterly report series. Essential to the professional libraries of presidents, vice presidents, deans, and other leaders in today's open-door institutions,
New Directions for Community Colleges
provides expert guidance in meeting the challenges of their distinctive and expanding educational mission.
Table of contents
EDITORS' NOTES 1
C. Casey Ozaki, Anne M. Hornak, Christina J. Lunceford
1. Excellence in Community College Student Affairs 5
Ashley Knight
Achieving excellence in student affairs surpasses the baseline of the standards and competencies in the field, and employs right actions in leadership, staff development, and communication to improve the educational
outcomes for students.
2. It Takes a Village: The Role of the Individual, Organization, and Profession in Preparing New Professionals 13
Christina J. Lunceford
Variance in background and preparation of new student affairs professionals at community colleges heighten the importance of effective orientation, training, and ongoing professional development strategies.
3. Construction of the Mid-Level Management Position 21
Steve Tyrell
This chapter explores the construction and evolution of the mid-level manager identity in relation to forms of organizational behaviors enacted to exert managerial control.
4. The Role of the Executive-Level Student Services Officer Within a Community College Organizational Structure 33
John Hernandez, Ignacio Hernandez
The authors outline the various pathways to an executive-level position as a student services officer in a community college and offer reflective insight from the field.
5. An Overview of CAS Standards: The Role in Self-Assessment and Evaluation 41
Anne M. Hornak
This chapter provides an overview of the CAS standards and presents information about conducting a self-study using the self-assessment guides (SAGs). Additionally, an overview of how the data can be used for program development and revisioning is offered.
6. Professional Competencies for Student Affairs Practice 47
Patty Munsch, Lori Cortez
TheNASPA/ACPA competencies define knowledge, skills, and attitudes expected of student affairs professionals, but are rarely explored in relation to community college settings. This chapter applies and examines the utility of the competencies in this context.
7. Using Professional Standards for Higher Education to Improve Student Affairs 55
Renay M. Scott
This chapter examines the use of accreditation and CAS standards resources to evaluate student services programming. The chapter provides an overview of the standards and contains examples to illustrate their use for improvement.
8. Creating and Implementing Practices That Promote and Support Quality Student Affairs Professionals 63
Steve Tyrell
This chapter explores challenges and issues facing student affairs professionals as they work to create supportive and quality educational environments for community college students. Suggestions for practice
are discussed.
9. Excellence Within Student Affairs: Understanding the Practice of Integrating Academic and Student Affairs 79
C. Casey Ozaki, Anne M. Hornak
In this final chapter, the authors argue that excellence in community college student affairs is an academic endeavor. In order for student affairs practitioners and units to be responsive to the needs of a wide range of students, the work must involve an academic orientation and collaboration between student and academic affairs.
INDEX 85