Supramolecular Soft Matter: Applications in Materials and Organic Electronics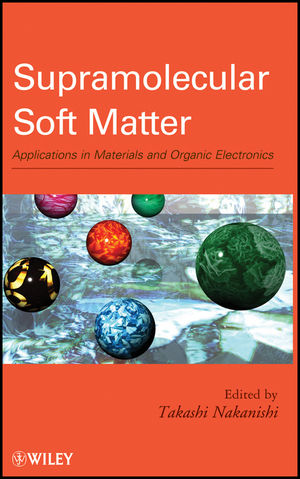 Supramolecular Soft Matter: Applications in Materials and Organic Electronics
ISBN: 978-1-118-09532-4
Oct 2011
504 pages
Description
The pivotal text that bridges the gap between fundamentals and applications of soft matter in organic electronics
Covering an expanding and highly coveted subject area, Supramolecular Soft Matter enlists the services of leading researchers to help readers understand and manipulate the electronic properties of supramolecular soft materials for use in organic opto-electronic devices, such as photovoltaics and field effect transistors, some of the most desired materials for energy conservation. Rather than offering a compilation of current trends in supramolecular soft matter, this book bridges the gap between fundamentals and applications of soft matter in organic electronics in an effort to open new directions in research for applying supramolecular assembly into organic materials while also focusing on the morphological functions originating from the materials' self-assembled architectures. This unique approach distinguishes Supramolecular Soft Matter as a valuable resource for learning to identify concepts that hold promise for the successful development of organic/polymeric electronics for use in real-world applications. Supramolecular Soft Matter:
Combines important topics to help supramolecular chemists and organic electronics researchers work together

Covers an interdisciplinary field of prime importance to government-supported R&D research

Discusses the concepts and perspectives in a dynamic field to aid in the successful development of organic electronics

Includes applications for energy conservation like photovoltaics and field effect transistors
Teeming with applicable information on both molecular design and synthesis, as well as the development of smart molecular assemblies for organic electronic systems, Supramolecular Soft Matter provides more practical in-depth coverage of this rapidly evolving technology than any other book in its field.
PREFACE (
Dr. Takashi Nakanishi
).
1. SUPRAMOLECULAR OBJECTS TOWARDS MULTI-TASK ORGANIC MATERIALS.
Chapter 1. Supramolecular Materialization of Fullerene Assemblies (Sukumaran Santhosh Babu, Hidehiko Asanuma, Takashi Nakanishi).
Chapter 2. Tuning Amphiphilicity of Building Blocks for Controlled Self-assembly and Dis-assembly: A Way for Fabrication of Functional Supramolecular Materials (Huaping Xu, Xi Zhang).
Chapter 3. Organic-Inorganic Supramolecular Materials (Katsuhiko Ariga, Jonathan P. Hill, Qingmin Ji).
2. STIMULI RESPONSIVE DYE ORGANIZED SOFT MATERIALS.
Chapter 4. Functional Materials from Supramolecular Azobenzene Dye Architectures (Charl F. J. Faul).
Chapter 5. Stimuli Responsive Supramolecular Dye Assemblies (Shiki Yagai).
Chapter 6. Anion Responsive Supramolecular Dye Chemistry (Hiromitsu Maeda).
3. DIMENSION CONTROLLED ORGANIC FRAMEWORKS.
Chapter 7. Polymeric Frameworks towards Porous Semiconductors (Jens Weber, Michael Bojdys, Arne Thomas).
Chapter 8. Two-Dimensional Semiconductive p-Electronic Frameworks (Donglin Jiang, Xuesong Ding, Jia Guo).
Chapter 9. Polymer Friendly Metal-Organic Frameworks (Takashi Uemura).
4. RECENT TRENDS OF ORGANIC RADICAL MATERIALS.
Chapter 10. Multidimensional Supramolecular Organizations Based on Polychlorotriphenylmethyl Radicals (Veronica Mugnaini, Marta Mas-Torrent, Imma Ratera, Concepció Rovira, Jaume Veciana).
Chapter 11. Photoswitching Property of Diarylethenes in Molecular Magnetism and Electronics (Kenji Matsuda, Kenji Higashiguchi).
5. ORGANOGELS AND POLYMER ASSEMBLY.
Chapter 12. Self-Oscillating Polymer Gels (Ryo Yoshida).
Chapter 13. Self-Assembly of Conjugated Polymers and their Application to Biosensors (David Bilby, Jinsang Kim).
6. SUPRAMOLECULAR LIQUID CRYSTALS.
Chapter 14. Advanced Systems of Supramolecular Liquid Crystals (Takuma Yasuda, Takashi Kato).
Chapter 15. Supramolecular and Dendron Liquid Crystals (John W. Goodby, Isabel M. Saez).
Chapter 16. Photoresponsive Chiral Liquid Crystals (Ratheesh K. Vijayaraghavan, Suresh Das).
Chapter 17. Liquid Crystals towards Soft-Organic Semiconductors (Yo Shimizu).
7. SUPRAMOLECULAR COMPOSITES BASED ON CARBON NANOTUBES.
Chapter 18. CNT/Polymer Composite Materials (Tsuyohiko Fujigaya, Yasuhiko Tanaka, Naotoshi Nakashima).
Chapter 19. Interaction of Carbon Nanotubes and Small Molecules (Sampath Srinivasan, Ayyappanpillai Ajayaghosh).
Chapter 20. The Tuning CNT Devices using Self-assembling Organic and Biological Molecules (Jeong-O Lee, Ju-Jin Kim).
8. OPTOELECTRONICS BASED ON SUPRAMOLECULAR ASSEMBLIES.
Chapter 21. Mimicking Photosynthesis with Fullerene-Based Systems (Juan Luis Delgado, Dirk M. Guldi, Nazario Martín).
Chapter 22. Recent Trends of Supramolecular Photovoltaic Systems (Dario M. Bassani).
FUTURE PERSPECTIVE IN SUPRAMOLECULAR SOFT MATERIALS.
Commentary 1. What will be the Rosetta stone for the next-generation supramolecular chemistry? (Takuzo Aida).
Commentary 2. Supramolecular Chemistry in Material Science (Dirk G. Kurth, Chemische Technologie der Materialsynthese, Universität Würzburg, Germany).