Supreme Court For Dummies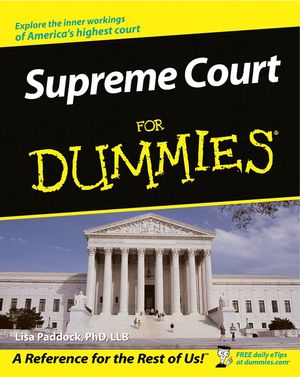 Supreme Court For Dummies
ISBN: 978-1-118-06865-6 April 2011 384 Pages
Description
Gives you the scoop on how the Court reaches its decisions

Get involved and track a case through the system

This fun and easy guide demystifies the federal court system by describing what kinds of cases the justices hear, outlining how cases reach the Supreme Court, clarifying legal terms, and explaining how the Court arrives at its decisions. You'll discover how to get inside the Court yourself and investigate both the key issues and the players involved.

The Dummies Way
* Explanations in plain English
* "Get in, get out" information
* Icons and other navigational aids
* Tear-out cheat sheet
* Top ten lists
* A dash of humor and fun
Introduction.

PART I: "WE'LL TAKE IT ALL THE WAY TO THE SUPREME COURT".

Chapter 1: Considering the Court of Last Resort.

Chapter 2: Getting to Cert.

Chapter 3: Making a Decision.

PART II: JUDGING THE JUSTICES.

Chapter 4: Make No Mistake, These Justices Are Politicians: The Conformation Contest.

Chapter 5: First Among Equals: The Chief Justice.

Chapter 6: A Touch of Class: Some Notable Justices.

Chapter 7: Rogues Gallery: Some Notorious Justices.

PART III: SETTING PRECEDENTS: CASES THAT COUNT.

Chapter 8: The First Amendment is the First Amendment.

Chapter 9:Due Process: What It Is, and Who Gets It?

Chapter 10: Equal Protection: How Equal Is It?

PART IV: HIGH DRAMA ON THE HIGH COURT.

Chapter 11: Dred Scott and Civil War.

Chapter 12: Brown v. Board of Education and the Civil Rights Movement.

PART V: UNDERSTANDING SUPREME COURT DECISIONS.

Chapter 13: Using the Internet: Your Best Bet.

Chapter 14: The Supreme Court Reporter Is Not a Magazine: Traditional Research.

PART VI: BECOMING A COURT INSIDER.

Chapter 15: Law Clerks: The Worker Bees.

Chapter 16: They Also Serve: Other Court Staff.

PART VII: THE PART OF TENS.

Chapter 17: The Court's Ten Best Decisions.

Chapter 18: The Court's Ten Worst Decisions.

Chapter 19: Ten Ways the Court Has Changed the Course of History.

PART VIII: APPENDIXES.

Appendix A: Common Legal Terms.

Appendix B: Constitution of the United States of America.

Appendix C: Justices of the Supreme Court.

Index.